Creedmoor Vernier Tang Sight,
for Mid Range competition,
with 3" elevation and windage,
plus true Vertical alignment
This mid-range 3" Creedmoor Vernier tang sight includes two pivoting adjustment screws in the base, to allow perfectly true Vertical alignment, without file fitting the base to your tang.

This sight does have windage adjustment, built in. You may loosen the eye disk, and slide the eye-disk carriage vane from side-to-side, for windage. Be sure to scribe a zero mark, since the vane is unmarked.

Two 4-7mm mounting screws are included. Base mounting holes are 1.510" on center. Made in Italy, this sight is often fitted to Sharps rifles by Pedretti, EMF, IAB, Siles, or Powder River. This 3" sight is too short for Remington Rolling Blocks, see our taller 5" version.

This sight requires a different base, to fit the Sharps Rifles by Shiloh, C. Sharps, Axtell, Arcadia, ArmiSport, or Pedersoli. Those use the same 2.260" sight spacing and the special odd screws as the original antique Sharps rifles. Order our optional #RS-CREED-BASE sight base, plus two (2) #SCREW-SHARPS-DP-L special 10-28 mounting screws for use on original antique and correct replica Sharps rifles. This base and two (2) screws are sold separately.

Blued steel, over 3" tall, a detent spring locks it upright, unless folded down. Vernier elevation markings are engraved on the side. Record your 100, 200, 300, 400, and 500 yard settings in your notebook, for each bullet you use.

Click ADD TO CART, for same day shipment. Ten day inspection begins at delivery. Else return it for same day refund, if not delighted. Postage is your only risk.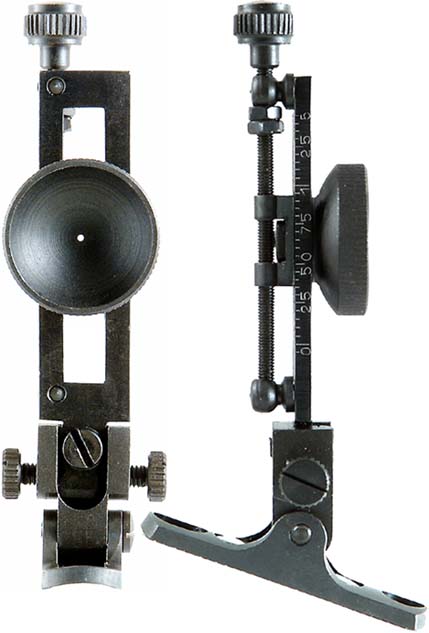 Track of the Wolf, Inc.
18308 Joplin St NW
Elk River, MN 55330-1773
Copyright © 2023Track of the Wolf, Inc.