RIG - Cleanpower Double Ended Brushes,
pack of three,
nylon, bronze, stainless steel,
by Birchwood Casey
A selection of double ended brushes gives you the ability to clean firearm surfaces effectively and without damaging them. They are constructed of durable, flexible plastic handles and bristles that are resistant to flattening and breaking. These brushes are designed not to react with cleaning solvents, or oil and will not corrode. Sold as a pack of three, one nylon, one bronze, one stainless. Nylon bristles are best for the most delicate parts of a firearm. This brush protects the beautiful finish, as well as the surfaces of older firearms with a fine patina. Bronze bristles with its stout nature, removes hard deposits easily and without damaging may blued or stainless surfaces. Stainless steel brushes can be abrasive and should be used on only the most stubborn deposits.

The longer bristles work well for getting down in frizzen springs, and some other hard to reach areas a standard length toothbrush can not reach.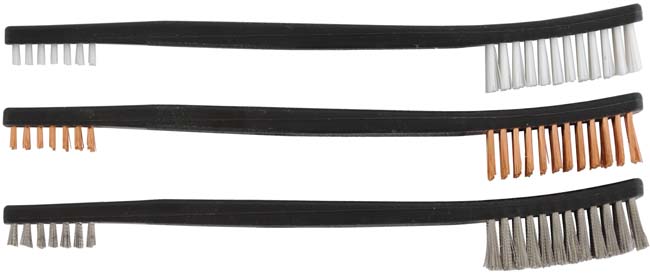 Track of the Wolf, Inc.
18308 Joplin St NW
Elk River, MN 55330-1773
Copyright © 2021Track of the Wolf, Inc.