Under Rib for 13/16" octagon,
smooth drawn steel, 22" length,
made in the U. S. A.
by Track of the Wolf, Inc.
This "super smooth" drawn steel 22" under rib is ready for installation, final polishing, and finishing. No draw-filing is required, because this fine steel rib has no mill marks. Polish it with 0000 steel wool.

Made in the U.S.A. of 1018 steel, sized to fit a 13/16" octagon barrel exactly, it is ideal for a 34" barrel with a 12" forend, or a 38" barrel with a 16" forend. This rib is available in your choice of 20", 22", 24" or 30" lengths.

The "web" thickness (center of the flat to center of the concave) is .220" standard, allowing room for our popular #KEY-36-I wedge keys, #UL-NW-3 slotted lugs, or our easy-to-install #UL-104-A lug staples.

Our #FC-PA-13-I forend cap is made to fit this .220" standard web thickness. Or select a #FC-PA-13-B brass, or #FC-PA-13-S nickel silver forend cap.

Mount this rib with four (4) of our #SCREW-5-40-R rib screws, to allow easy dis-assembly, browning, and soldering of the rod pipes. We also offer #SCREW-6-40-R rib screws, in case of a stripped 5-40 thread. You may need our #TAP-5-40-P plug tap to start each hole, and #TAP-5-40-B bottom tap. Leave at least .050" or more wall thickness. Measure twice! Avoid drilling too deep!

If you solder it to the bottom flat of your 13/16" octagon barrel, we recommend using our #SOLDER-SB Stay-Brite brand solder, to tin the mating surfaces. Assembly with solder requires simultaneous assembly of the rib, barrel, middle and front ramrod pipes, and is tedious. We prefer using rib screws if possible.

Select this 13/16" rib for a tapered octagon barrel, when your muzzle is about 13/16" octagon, such as some Green Mountain tapered octagon fast twist bullet barrels for cartridge rifles, when used to create a muzzle loading bullet rifle.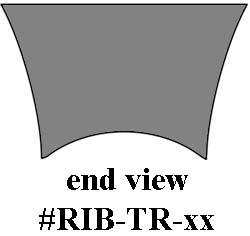 Track of the Wolf, Inc.
18308 Joplin St NW
Elk River, MN 55330-1773
Copyright © 2023Track of the Wolf, Inc.