Hawken 1" slant faced breech & tang,
3/4-16 thread,
by L&R
This cleverly designed slant faced plug and tang by L&R Lock Co. is threaded 3/4-16 with .690" thread journal length, and .500" thread engagement for strength. The powder chamber is .375" diameter, ending in a large flash channel which is gently angled to the nipple seat.

Most important, the plug and tang mating surfaces are machined flat, for a snap fit. The 1/4-28 nipple seat has a recessed shoulder for a snug seat. Notice that the tang sweeps up to the wood, at both rear corners. Notice that our #Lock-LR-125 Hawken percussion lock has a notch in the plate, pre-cut for this plug, to simplify rifle assembly.Order this pre-fitted Hawken plug and tang, with machined slant faces, and our matching #Lock-LR-125 percussion lock with notched plate, by L&R.

Selecting parts that work well together is one of the secrets of enjoyable gunmaking, and will greatly speed your work. These parts are well worth the price, to simplify building, or when hunting afield.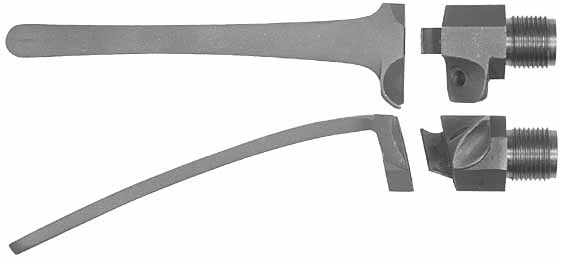 Track of the Wolf, Inc.
18308 Joplin St NW
Elk River, MN 55330-1773
Copyright © 2023Track of the Wolf, Inc.