| | |
| --- | --- |
| English Fowler flint 1-1/8" hooked breech plug, 7/8-14 thread | |
This English style tang is wax cast of malleable steel. It may be straightened, or bent cold. Each wax cast plug has been X-ray inspected for internal flaws before threading. Made in 3/4-16 and the big 7/8-14 thread size for use in 10 or 12 gauge fowling guns, 1-1/8" octagon at the breech. You may use this plug with either a right or left hand flint or percussion lock.

The overall length of the tang only is 2-1/4", the width mid-point of the tang is 9/16".

The groove at the top of the tang resembles those found on Brown Bess Muskets, and some pre-Revolutionary War era fowling guns. Perhaps it served as a primitive rear sight? Build your own flint fowling gun, fancy trade gun, or Committee of Safety style military musket, using this plug and tang.

Note that N. M. L. R. A. rules for the N. W. Trade Gun Match do not allow a rear sight above the plane of the barrel. You may finish the tang to be even with the top of the barrel, and extend the groove by filing into the top surface of the barrel, to match the tang, using a round file.

Intended for use on a smoothbore fowling gun barrel with a 1-1/8" octagon breech, the tang may be reduced to work perfectly on a barrel with a round breech. Round the corners as necessary, after file fitting the tang to the installed plug. Round barrels have a distinct side flat, to fit snugly against the lock. Better quality flint guns will have a flash hole liner installed in this flat. Liners were installed by most London gun makers, and often retrofitted to less costly guns, in the field, as the vent became worn. If you demand sure-fire ignition, you must install a flash hole liner!

This same threaded plug is also used on our American Fowler hooked breech with longer tang. Select our 3/4-16 thread for 20 gauge and smaller bores, or our big 7/8-14 thread for larger bores, including 12 and 10 gauge. Wax cast steel.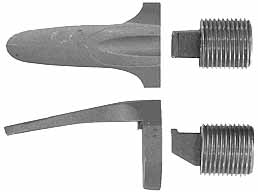 Track of the Wolf, Inc.
18308 Joplin St NW
Elk River, MN 55330-1773
Copyright © 2023Track of the Wolf, Inc.