Pick & Pan Brush,
with brass chain, button clasp,
and black bristle brush,
for flint musket, rifle, or fowler
No re-enactor or flint lock shooter should be without a proper pick & brush set. These handy tools are used for clearing the pan and touch hole of your firearm between shots,

This "whisk and pick" is modeled after several original examples, and features a 3" hand forged vent pick, with decorative twists and curled head. The 2-1/4" brush has a turned brass base, with black bristles.

The pick and brush are attached to two 6-3/4" long brass link chains, just like original examples. The chain is made of strong brass links, which are much more durable than other similar "whisk & picks" on the market. This chain will not break or unlink.

The curled brass loop, at the top of the chain, may be squeezed to clip over a button, or tied to a leather loop, securing the pick & brush to your coat, uniform, shooting bag strap, powder horn strap, or cartridge box strap.

Overall length of our best Pick and Pan Brush is 10-1/2".

This is an essential tool, to insure instant flint ignition, for the military re-enactor, period hunter, or flint lock rifle, musket, or fowling gun enthusiast.

Click ADD TO CART, for same day shipment. Ten day inspection begins at delivery. Send your approval. Else return it for same day refund, if not delighted. Postage is your only risk.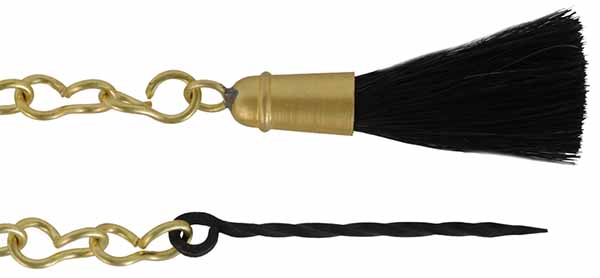 Track of the Wolf, Inc.
18308 Joplin St NW
Elk River, MN 55330-1773
Copyright © 2023Track of the Wolf, Inc.