Hawken Rifle Capbox Kit,
pineapple finial, steel,
6-1/4" overall length
Known as the "Pineapple" or early Hawken patchbox, this kit is not difficult to install. The patchbox lid is inlet first, and the side hinge hangs straight down, mounting to the inside of the patchbox cavity. You need not be too concerned about inletting gaps because the decorative bezel completely surrounds the hinged lid, and is installed separately. Take time, and fit it neatly to your stock.

Curved to fit your stock, our early Hawken "Pineapple" patchbox kit is polished outside, made of .052" thick steel. Use our unplated iron wood screws, #SCREW-6x1/2. An over-center cam spring, and mounting screw are included. Overall length is 6-1/4".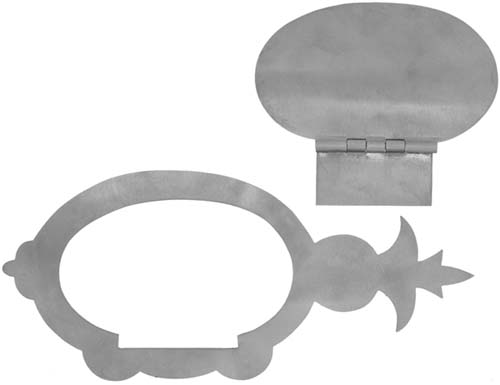 Track of the Wolf, Inc.
18308 Joplin St NW
Elk River, MN 55330-1773
Copyright © 2022Track of the Wolf, Inc.