Pattern for
Boy's Authentic American Shirt
size 8 to 14
This square cut Authentic American Shirt was commonly made and worn for the first 200 years of our Country's history. By changing fabric and detail this shirt can go from a coarse woodsman's or workingman's everyday shirt to a lacy evening accessory. Many mountain men wore this shirt with ruffles when they first entered the fur trade and men frequently had their initials embroidered on the cuff.

Gathers for fulnell and gussets under the arms gives comfort and options included with this pattern are for an ascot tie, ruffled stock and/or ruffled insert. Extra length may be added for winter warmth.

Made in the USA, published by Eagle View. All terms are fully defined in the handy glossary. Bold illustrated instructions make Eagle View patterns easy to use, even for the novice.

Materials:


Fabric
Size 4 to 6
Size 8 to 10
Size 12
Size 14
36" wide
2-1/4 yards
2-1/2 yards
2-3/4 yards
3 yards
44" wide
1-1/2 yards
1-2/3 yards
2 yards
3 yard
Ascot Tie
36 or 44" wide
1/2 yard
1/2 yard
1/2 yard
1/2 yard
Ruffled Stock
36 or 44" wide
1/3 yard
1/3 yard
1/3 yard
1/3 yard
Ruffled Insert
36 or 44" wide
1/3 yard
1/3 yard
1/3 yard
1/3 yard

Fabric: Light weight linen, light to medium weight cotton broadcloth or cotton blends, solids, calico or stripes.

Notions: Thread, 5 buttons, and lace, if desired.

Click ADD TO CART to order yours today!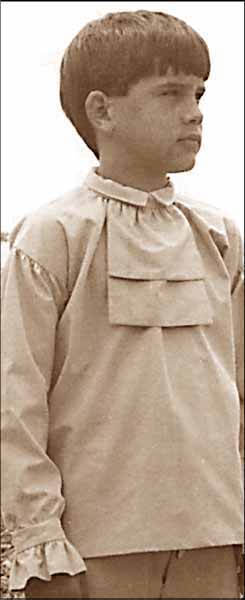 Track of the Wolf, Inc.
18308 Joplin St NW
Elk River, MN 55330-1773
Copyright © 2023Track of the Wolf, Inc.