Confederate States Paper Money Set ,
reproduction of 9 bills from Feb. 17, 1864
Confederate currency played an important part in purchasing the material with which to wage war. Not having many coins, the Southern government turned to paper money. The First Issue was authorized by the Act of March 9, 1861, and some of those notes were actually printed in the North by the National Bank Note Company of New York. Through the next six issues a total of about $1, 554,000,000 was authorized to be printed. Whatever gold value the Confederate money had dropped from 90 cents on the dollar in 1861 to 4.6 cents in early 1864, to only 1.7 cents in 1865. As just two examples of the rampant inflation, butter cost $15 per pound, and shoes $125 per pair in May 1864.

The seventh issue was authorized by the Act of February 17, 1864. It is estimated that about one billion dollars was printed under this act alone! There are nine different denominations of notes in this series. Originally, $5, $10, $20, $50, and $100 bills were printed with fancy blue engraved backs. The 50 cents, $1, $2, and $500 had plain backs.

This set includes:

50 cents - profile bust of Jefferson Davis, President of the Confederate States of America
$1 - bust of Clement C. Clay, Confederate Senator
$2 - bust of Judah P. Benjamin; he held three posts in Confederate cabinet
$5 - Capitol of the Confederate States, Richmond; bust of C.G. Memminger, Confederate Secretary of the Treasury
$10 - Field artillery; bust of R. M. T. Hunter, Confederate Secretary of State
$20 - Tennessee State Capital, Nashville; bust of Alexander H. Stevens, Vice President of C.S.A.
$50 - bust of Jefferson Davis, President of C.S.A.
$100 - "Women of the South" depicted by bust of Lucy H. Pickens; Confederate soldiers; and bust of George W. Randolph, Confederate Secretary of War
$500 - bust of Lieut. General Thomas J. "Stonewall" Jackson; Confederate flag, Great Seal, and trophies of war


Same day shipment, when you click ADD TO CART and complete shopping cart check out. Inspect the item, return it for same day refund if not delighted. You will be pleased with your choice. You pay postage, your only risk.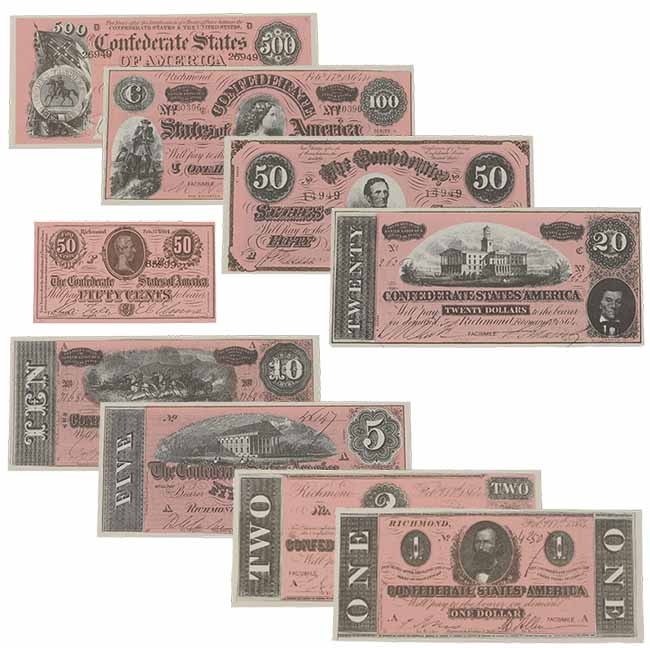 Track of the Wolf, Inc.
18308 Joplin St NW
Elk River, MN 55330-1773
Copyright © 2023Track of the Wolf, Inc.