Muzzleloader Magazine
MAY / JUNE 2023
Muzzleloader magazine MAY/JUNE 2023 issue. The publication for traditional black powder shooters.

Contents:

Letters From Our Readers
Prime Possibles
Doin' It Yourself The Old Man and the Bayonet - T.C. Albert
Shooting the Bull Back to Rain De-Voo - Mike Nesbitt
Cache of the Hollow Tree A Short History of Fortifications, Part I - Tony Hunter
Dispatches from New England The Enemy are Upon Us, The Battle of Hubbardton: Part II - Retreat to Hubbarton - Vincent C. Spiotti
18th Century Traveler 2nd Virginia Regiment, Forbes 1758 Campaign: Part II - Matt Wulff
On the Game Trail Flintlock Mule - Clinton Epps
Unassuming Mastery: The Life and Work of Fred Anderson Riley - Joshua Shepherd
The Frontier Economy - Donald Wade Davis
7 Cla Masters: Then & Now - The John Bivins and Friends Rifle Set - 2023 Contemporary Longrifle Foundation Fundraising Raffle - Mark Silver
"Pistols for Two & Champagne for One" A Brief Treatise of Dueling's Rise & Fall in America, part I - Ted Franklin Belue
Classified Ads
Index of Display Advertisers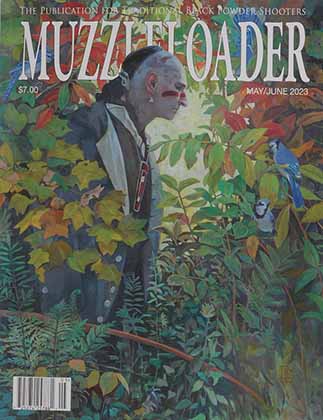 Track of the Wolf, Inc.
18308 Joplin St NW
Elk River, MN 55330-1773
Copyright © 2023Track of the Wolf, Inc.