Muzzleloader Magazine
MARCH / APRIL 2023
Muzzleloader magazine MARCH/APRIL 2023 issue. The publication for traditional black powder shooters.

Contents:

Letters From Our Readers
Doin' It Yourself From Culloden to the Delaware - T.C. Albert
Shooting the Bull Gettin' Personal - Mike Nesbitt
Cache of the Hollow Tree The Scottish Highland Regiments Come to America , Part II - Tony Hunter
Dispatches from New England The Enemy are Upon Us, The Battle of Hubbardton: Part I - Prelude to Battle - Vincent C. Spiotti
18th Century Traveler 2nd Virginia Regiment, Forbes 1758 Campaign: Part I - Matt Wulff
On the Game Trail Deer Hunting in the Old South Today - Mike Yancey
Harris Maupin... Do One Thing - Kyle Willyard
30 Years and Still Shooting! Sgt. Alvin York Memorial Shoot - Mel Hankla
Marcus Whitman, Buckskin Doctor - J. Gregory Killingsworth
Egg on the Face, A London Gun - Tom Snyder and Bob Keen
Classified Ads
Index of Display Advertisers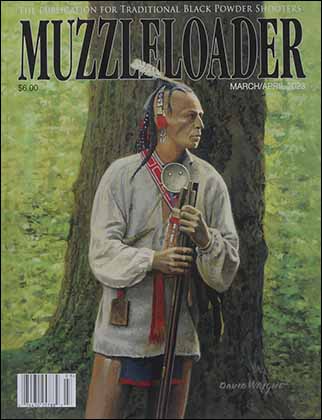 Track of the Wolf, Inc.
18308 Joplin St NW
Elk River, MN 55330-1773
Copyright © 2023Track of the Wolf, Inc.