Muzzleloader Magazine
MARCH/APRIL 2021
Muzzleloader magazine MARCH/APRIL 2021 issue. The publication for traditional black powder shooters.

Contents:

Letters From Our Readers
Doin' It Yourself Thoughts on Homemade Rifle Cases - T.C. Albert
Shooting the Bull Remembering Ramrods - Mike Nesbitt
Cache of the Hollow Tree The Remarkable Life of Sam Houston, Part 1 - Tony Hunter
Dispatches from New England A Reluctant Leader - The Tragedy of Daniel Shays, Part III - Convulsed and Commonwealth - Vincent C. Spiotti
18th Century Traveler We All Cannot be Daniel Boone - Matt Wulff
Portals in Time Tales That bear Telling, Part II - Native Americans and Black Bears - Mark Sage
On the Game Trail Melding the Old with the New (Of Foxes and Bobcats and Muzzleloaders) - James Stella
Ron Scott - Philip Key
Chiswell's Lead Mines - Jim Mullins
Christian Oerter 1774 Rifle for Aaron Hankinson - Bob Lienemann
Classified Ads
Index of Display Advertisers
For the Bookshelf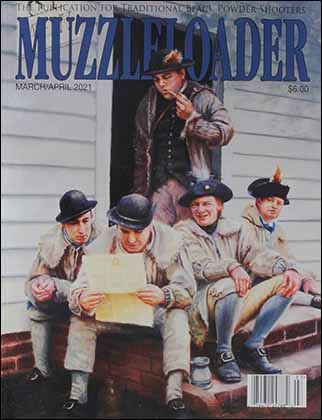 Track of the Wolf, Inc.
18308 Joplin St NW
Elk River, MN 55330-1773
Copyright © 2021Track of the Wolf, Inc.