Lyman Trade Rifle,
.50 caliber, 28" barrel,
1 in 48" twist, right hand,
walnut, brass trim, new in-the-box, unfired
Stocked in dark stained imported walnut, the Lyman Trade Rifle has a .50 caliber has a 15/16" octagon by 28" barrel to give the rifle a moderate weight without being overly muzzle heavy. Trimmed in polished brass, this is a serious hunting rifle, with single trigger. The percussion lock is color case hardened in mottled colors. New in-the-box unfired. Stock photo shown.

Weighing in at an average of 8.5 pounds, the rifle has a trigger reach of 13-1/2" making it well suited for today's average size shooter.

Not too long, too heavy, or too valuable to carry in the woods while stalking game, this rifle will become your favorite hunting partner. This is an ideal rifle for hunting white tail deer, mule deer, or elk, especially during specific muzzle loading seasons. Notice the sweeping grip rail of the brass triggerguard, for comfortable aim.

From above the comb and long tang of the hooked breech can be seen. All of the factory markings can be found on the top three flats of the barrel at the breech. An iron blade front sight sits behind the muzzle and a elevation adjustable rear sight is dovetailed ahead of the breech.

This bottom view of the gun shows off the base flat of the stock and the brass triggerguard, which is mounted with two blued steel screws.

Out of the picture a brass forend cap guides the ramrod into the stock. Ahead of the cap a steel underrib has been installed on the barrel, the forward ramrod pipes are attached to this rib.

This is Lyman's Trade Rifle, their least decorated hunting rifle. Yet it features the removable wedge key, and hooked breech, to allow the barrel to be instantly dismounted for easy cleaning.

Our final look at the rifle shows off the brass washer that surrounds the single lock bolt of the gun. The bolt passes through the stock to engage the lock on the opposite side. To the rear a beaver tail cheek has been formed on the butt, perfect for right handed shooters.

Select the rifle you desire, and click ADD TO CART, and complete the checkout. Inspect the item, return it for same day refund if not delighted. You will be pleased with your choice. You pay postage, your only risk.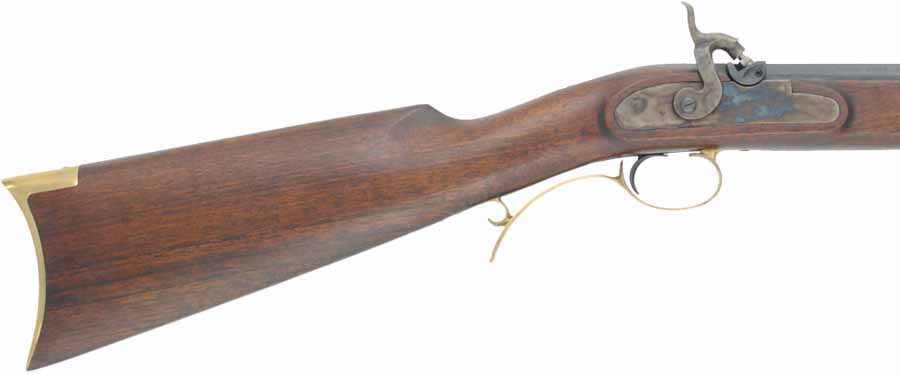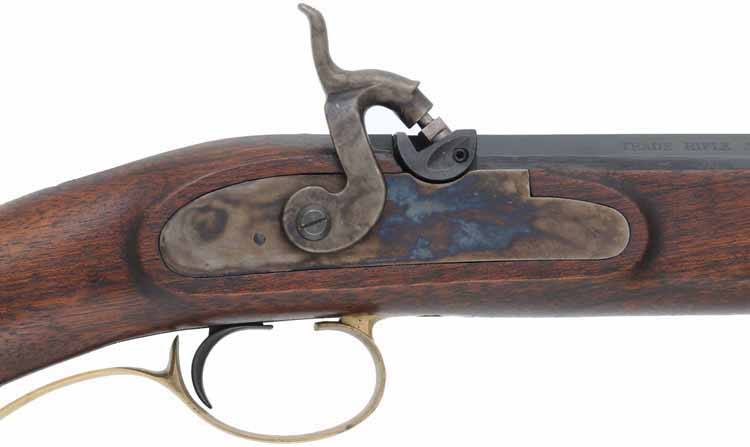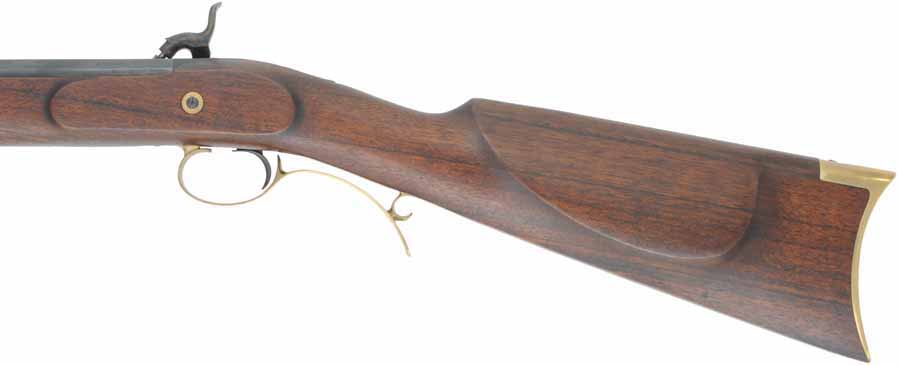 Track of the Wolf, Inc.
18308 Joplin St NW
Elk River, MN 55330-1773
Copyright © 2023Track of the Wolf, Inc.