Lyman Great Plains Pistol Kit,
.50 percussion,
new, unfired, by Lyman
Stocked in walnut, with 15/16" octagon barrel, color hardened percussion lock, and brass triggerguard, this Plains Pistol has the classic 1830 era bag butt architecture. This is a very comfortable grip, large enough for man sized hands, with enough drop and curve to make aiming as instinctive as pointing your finger.

The 15/16" octagon barrel is 8" long. Rifled with eight equal lands and grooves. The barrel has a 1 in 30" twist ideal for pistol shooting a patched round ball.

A ramrod is included with this kit. However, for those who want a spare, we also make #RAMROD-086-LPP hickory 3/8" ramrod with brass tips threaded 8-32 at front, 10-32 at rear, as a spare part, sold separately.

The top flat of the barrel is marked - LYMAN - MIDDLEFIELD - CONN -. The off flats are marked with the proof marks and PLAINS PISTOL .50.

The hooked breech, and single wedge key, will allow the barrel and breech plug to be dismounted with only finger pressure. No tools are needed to dismount this barrel for cleaning, but you should use our #NW-160 nipple wrench, sold separately, to remove the new stainless steel nipple, when flushing the barrel.

The grip rail of the brass triggerguard is mounted with two blued steel screws. The forend is fitted with a steel forend cap, with integral ramrod hole. A 3/8" diameter ramrod serves this pistol.

Sold separately order our #PL-6-50, pistol loading rod with .50 caliber jag and ball starter, which is ideal for use with this pistol.

We also make #RAMROD-086-LPP (unbreakable delrin) or #RAMROD-086-LPP-H (hickory) 3/8" ramrod with brass tips threaded 8-32 at front, 10-32 at rear, as a replacement part, sold separately

This will make a fine companion piece, for your .50 caliber percussion Hawken, Great Plains, or Mountain rifle!

Inspect the item, return it for same day refund if not delighted. You will be pleased with your choice. You pay postage, your only risk.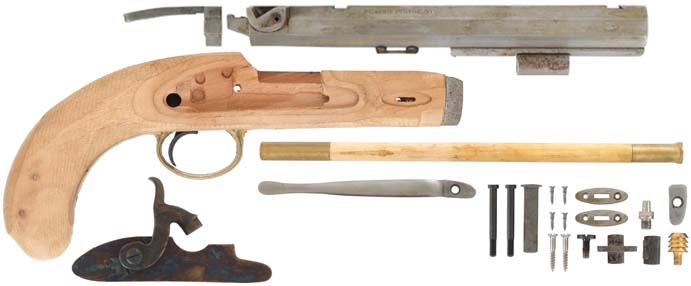 Track of the Wolf, Inc.
18308 Joplin St NW
Elk River, MN 55330-1773
Copyright © 2022Track of the Wolf, Inc.