Lyman Deerstalker,
.50 caliber, 24" barrel,
flint lock walnut, rubber recoil pad,
factory installed fiber optic sights,
factory new in-the-box, unfired
The Lyman Deerstalker right hand flintlock rifle is stocked in walnut with a factory installed rubber recoil pad and sling swivel mounts. The black oxide finished furniture includes a single trigger with large bow for a hunter's gloved finger. The 24" octagon barrel is fitted with factory installed Lyman fiber optic sights and served with a black synthetic ramrod. Stock photo shown.

Weighing in at just under 8 pounds the rifle has a trigger reach of 14-1/4" making it well suited for today's average size shooter. The Lyman Deer Stalker is rifled with a 1 turn in 48" twist, to allow the choice of round balls, Maxi bullets, or Minie bullets.The walnut stock is fitted with a black rubber recoil pad, ideal for this handy rifle. The stock is shaped with an oval cheek piece for a right hand shooter. The lock plate and flint cock are color case hardened to mottled grays, blues, and purples. The breech is fitted with a stainless steel vent hole liner. The barrel was fitted with Lyman's red fiber optic front sight and green fiber optic adjustable rear sight for easy sighting in the field. The 3/8" ramrod is a sturdy flexible delrin material with a blued steel tip with 10-32 threads for loading and cleaning accessories. Sling swivel mounts have been fitted to the rifle. The rear swivel stud is mounted to the toe of the buttstock. The forward swivel stud is mounted to the middle ramrod pipe. Add your own quick disconnect swivels and you can carry this handy rifle all day.

The hooked breech allows the barrel to be easily dismounted for cleaning without risk of wetting the stock with water containing black powder residue. To dismount the barrel, put the lock on half cock, close the frizzen, withdraw the ramrod, drift the key past the underlug, and the barrel can be lifted from the barrel channel for ease of cleaning. Place the breech end of the barrel in a bucket of soapy water. Run a wet patch down and up the bore, the pumping action will flush all the fouling from the barrel. Once the bore is clean, run a dry patch down the bore to pick up any moisture followed by a oily patch. Dry and oil the exterior then reassemble the rifle.

Select the rifle you desire, and click ADD TO CART, and complete the checkout. Please allow 14 to 20 days for shipment of this item. Inspect the item, return it for same day refund if not delighted. You will be pleased with your choice. You pay postage, your only risk.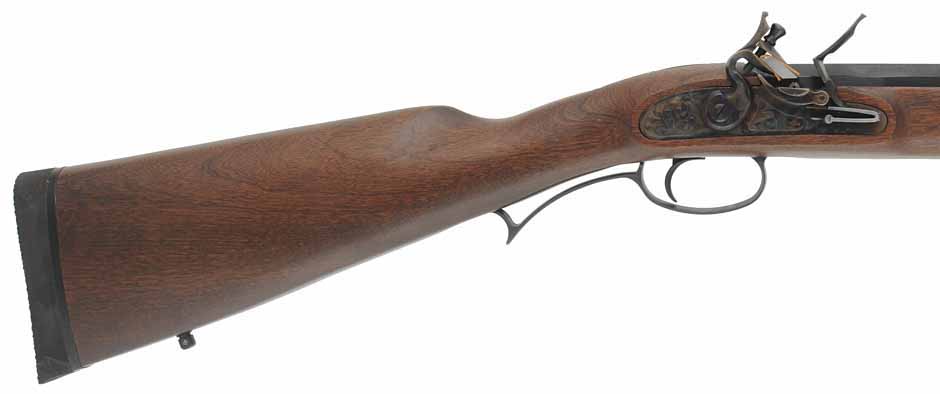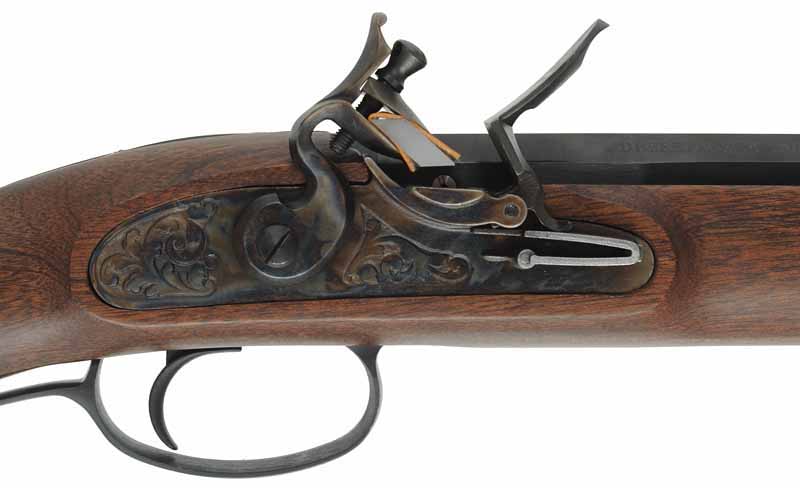 Track of the Wolf, Inc.
18308 Joplin St NW
Elk River, MN 55330-1773
Copyright © 2021Track of the Wolf, Inc.