John Twigg - London
Fowling Gun flint lock,
by R. E. Davis
Fowling Gun Flint Lock - John Twigg, London


This fine 1760 - 1770 era lock is made in the style of John Twigg. Famous for fowling guns, he made sporting rifles and pistols, too. Twigg's guns are generally very elegant, with minimal decoration. Rather, his eye for graceful architecture, and his use of subtle decorative features, enhanced his guns.

Larger than Siler's large lock, the Twigg lock will work well on your next fowler or rifle. Notice that the cock points directly into the semi-waterproof pan. The fine English styled plate is surrounded by a nice moulding. The cock is large and the tumbler geometry provides enough travel to handle a full 1" gun flint. The roller bearing and frizzen spring ramp give it a smooth action.



Fowling Gun Flint Lock - John Twigg, London



The fly detent pivots in the tumbler's fly mortise, preventing the sear from accidentally engaging the half-cock notch when fired. Suitable for use with plain or set triggers. The large lock is ideal for English sporting rifles, fowlers, and English influenced longrifles with barrels 15/16" to 1-1/8" at the breech.

As you cock this lock, you will notice the the long swivel link tucks under the tumbler arm, minimizing the trigger effort needed. This gives the lock a light release, increasing in speed through the stroke, due to increasing leverage. The frizzen tightly covers the pan. The mainspring has a floral finial and a smooth snappy action. The tumbler and sear are spaced slightly off the bridle and lock plate's inner surfaces by integral bearings. This "frictionless" design became a popular feature on later English locks. Designed by John Twigg, assembled and tuned by R. E. Davis Co., this lock is appreciated by many fowling gun shooters afield.

Track keeps every spare part in stock. Rarely needed, most parts are machined and tempered, ready to install instantly. Frizzens require hand fitting.

Order these parts with confidence. Spare parts may be returned postpaid for full refund, unless modified or broken. We honor the limited warrantee on all the fine R. E. Davis' locks. Call us!



We recommend that you order a dozen Flint-#ENG-8 English 1" gun flints, too.

This lock is shown at exact-full-size, in Track's new catalog for gunmakers and gunsmiths.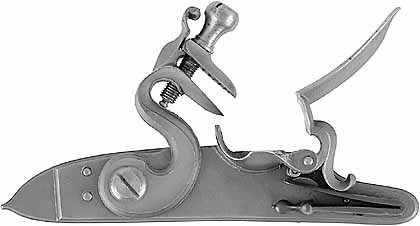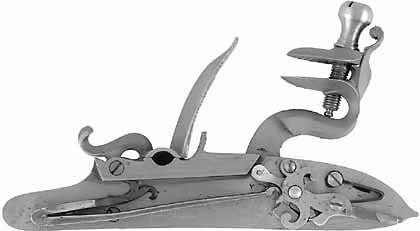 Track of the Wolf, Inc.
18308 Joplin St NW
Elk River, MN 55330-1773
Copyright © 2022Track of the Wolf, Inc.