| | |
| --- | --- |
| Siler small right Percussion Lock Kit, unassembled | |
Siler small right Percussion Conversion Lock Kit


Sometimes called Siler's pistol lock, this medium sized percussion lock kit is ideal for light rifles with 13/16", 7/8" or 15/16" octagon barrels. Similar in shape to Siler's large lock kit, they are often confused.

Made in right hand only, an identical small flint lock kit may be assembled to interchange with it. Build your gun as percussion first, since drum placement is most critical.

Assembly requires the skilled use of a drill press, vise, fractional drill bits in sizes 5/64", 3/32", 9/64", 11/64", 13/64", 5/16", and a No. 33 drill bit. A 6-40 tap is required. We offer all these taps and drill bits.

After drilling, tapping, fitting, and polishing, it is necessary to harden most internals using a MAPP gas or an oxygen acetylene torch. The frizzen spring, mainspring, and sear spring are hardened and tempered. You may wish to polish the springs.

Make an error? No problem. We stock spare parts!

Our Siler small caplock matches our small flint lock. Cut for a 7/16" powder drum, the drum must be well supported during the hammer fall. Use our #Drum-7-5-F-N.



This lock is shown at exact-full-size, in Track's new catalog for gunmakers and gunsmiths.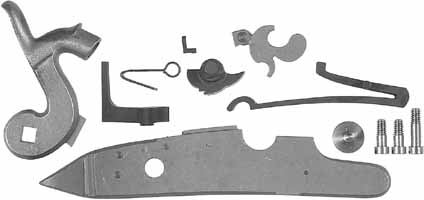 Track of the Wolf, Inc.
18308 Joplin St NW
Elk River, MN 55330-1773
Copyright © 2021Track of the Wolf, Inc.