| | |
| --- | --- |
| Small Queen Anne pistol Flint Lock, by Jim Chambers | |
Sometimes called the small Queen Anne pistol lock, this flint lock is smaller than Siler's small lock. The rounded plate, pan, and the elegant cock are of London's best style, popular from 1730 to 1770.

Perfect for use on an early holster pistol, target pistol, a pair of dueling pistols, or a small caliber flint longrifle, use this small lock with your 13/16", 7/8" or 15/16" octagon or tapered round barrel.

Internally, this lock incorporates the famous small Siler parts, fine tuned for this lock. The tumbler and sear have bearing shoulders to minimize friction. To achieve the small plate size, the mainspring and tumbler closely approach the lower edge of the lock plate. Clever geometry causes the sear to return to the same position in full cock, half cock, and full down position. The mainspring engages a cam action ramp, to minimize trigger release and accelerate lock time.

This lock engages full cock far back, allowing the use of our most popular 3/4" flint. Any large lock has an advantage over small locks, since large locks store more energy, which they release as sparks.

This small lock offers a long stroke, heavy mainspring, and optimum geometry, to insure best possible performance from a small lock.

Well finished, bright inside, grey matte outside, this lock is ready for cold browning. Or use fine emery cloth to polish the exterior to an "armory bright" final finish, often used on both the barrel and lock.



We recommend that you order a dozen Flint-#ENG-6 English 3/4" gun flints, too.

This lock is shown at exact-full-size, in Track's new catalog for gunmakers and gunsmiths.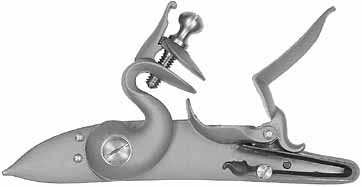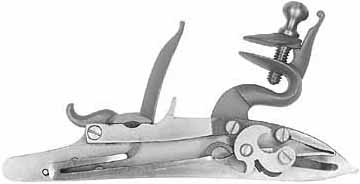 Track of the Wolf, Inc.
18308 Joplin St NW
Elk River, MN 55330-1773
Copyright © 2021Track of the Wolf, Inc.