Flash Guard Screw & Nut
for large Siler, deluxe Siler, & Golden Age flintlocks,
8-32 thread, inside mounting screw with square nut.
The inside mounted frizzen screw on a large Siler, deluxe Siler, Jim Chamber''s Golden Age, and Gunmaker's flintlock requires a longer frizzen screw with a nut to mount a flash guard. Installation of a iron or brass flash guard, protects the shooter next to you from overspray vented from your flash hole. This protection is required at most-re-enactments, where flint shooters may stand and fire volleys shoulder-to-shoulder.

To install this screw. Dismount the lock from the gun. Use a mainspring vise to gently compress the frizzen spring only enough to remove tension on the frizzen. Remove the frizzen screw using a well fitted screw driver. Install the flashguard screw. Due to manufacturing tolerances on bolster thickness you may need to dress the screw head down if it stands above the bolster. Place your flash guard over the threaded end of the screw. Install the nut. The nut is designed to be a tight fit on the male threads, it will be snug as it goes on. Use a wrench, a percussion nipple wrench also works well to drive the nut. The nut has a small shoulder that will center the mounting screw hole on the flash guard. Tighten it down snug. The overall length of the screw is 1.04".

We offer a number of different flash guards. Available unmarked, with a French "Fleur-de-Lis" cartouche , or the English "Crown" mark over the letters "GR" for "Georgus Rex" (George the King).

A Golden Age flintlock, #LOCK-GA-FR, shown with a unmarked brass flashguard #FLASH-GD-UN-B installed.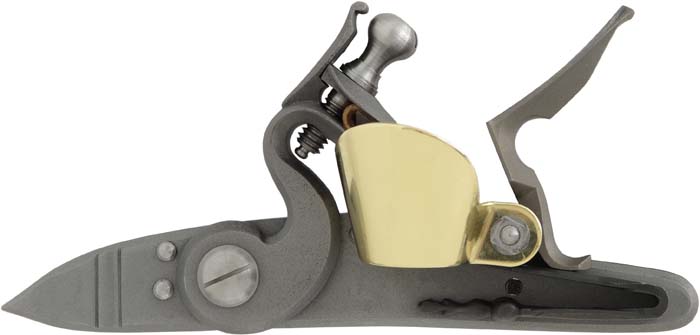 Track of the Wolf, Inc.
18308 Joplin St NW
Elk River, MN 55330-1773
Copyright © 2022Track of the Wolf, Inc.