Siler Flint Lock, for gunmakers,
assembled with oversize plate
Gunmakers flint lock is a Siler flint lock, with an oversize plate. This lock is assembled and tuned. Working parts are fitted as necessary for best action and minimum friction. The oversize plate can be shaped to to your custom design. Evidence of the lock maker's skill is obvious in the tight fit of the pan, internal parts, and the smooth action. A fly detent allows set triggers, if desired.

Track's gunmakers Siler flint locks are tuned to allow the use of our 3/4" standard flint. Offered in right hand only.



We recommend that you order a dozen Flint-#ENG-6 English 3/4" gun flints, too.

This lock is shown at exact-full-size, in Track's new catalog for gunmakers and gunsmiths.

Click ADD TO CART, for same day shipment.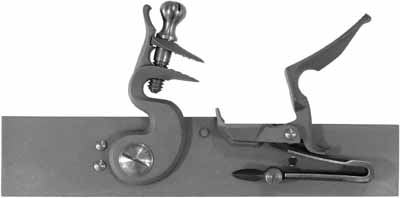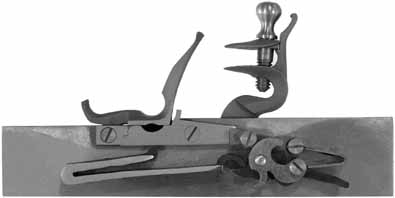 Track of the Wolf, Inc.
18308 Joplin St NW
Elk River, MN 55330-1773
Copyright © 2021Track of the Wolf, Inc.