| | |
| --- | --- |
| Sharon Hawken new internal lock parts, by L&R | |
The Sharon Rifle Barrel Co., Kalispell, Montana, made a popular Hawken rifle kit, which uses a L&R lock that appears identical to our #LOCK-LR-100. The plate, hammer, bridle, sear spring, and all screws are the same. However, internal parts of old locks are different!

DANGER: Sharon kits have L&R locks with old style tumbler, sear, link, pin, mainspring, and fly. Old style parts work fine, but are now obsolete. New L&R parts have improved geometry. NEVER mix new and old parts in the same lock. If you must replace a sear or tumbler, you must install all new internal parts! Sharon Rifle Barrel Co. is now defunct. No old style parts remain, no warranty on Sharon's old locks. We can supply new L&R parts as a set, to upgrade your Sharon rifle. Which includes the following.


Tumbler, improved, tempered ready for use, as are all L&R parts.
Sear, improved, tempered, ready for use, as are all L&R parts
Fly, improved with hole to pivot on tumbler pin.
Link, improved, with integral pins. Install large end down.
Mainspring, stronger, improved temper, with larger notch for link.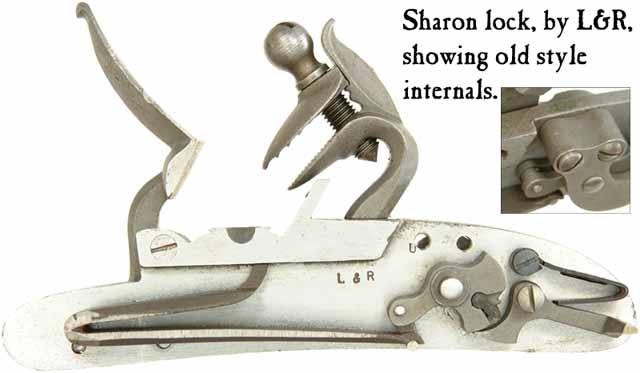 Track of the Wolf, Inc.
18308 Joplin St NW
Elk River, MN 55330-1773
Copyright © 2021Track of the Wolf, Inc.