Late English Flint Lock,
left hand, with gooseneck cock,
made in the USA, by L&R
Late English left Flint Lock


L&R's late flint lock is sometimes called a "Hawken" flint lock. Use it on American longrifles of the 1800 to 1830 era, fullstock Plains rifles, Hawken rifles, Tennessee rifles, English fowling guns and London style flint fullstock and half-stock sporting rifles.

This nice left flint lock is made to fit our left hand Hawken fullstock pre-inlet stock.

Formerly called the Manton lock, it should not be confused with the smaller #LOCK-LR-1800 left Manton flint lock.

This lock has a water-proof pan, roller bearing frizzen spring, stirrup link, stiff mainspring, and fly detent to allow the use of a set trigger. Turned raised bearing rings on the tumbler and sear minimize friction.



This lock exactly matches our right hand Mantonflint lock.

We recommend that you order a dozen Flint-#ENG-6 English 3/4" gun flints, too.

This lock is shown at exact-full-size, in Track's new catalog for gunmakers and gunsmiths.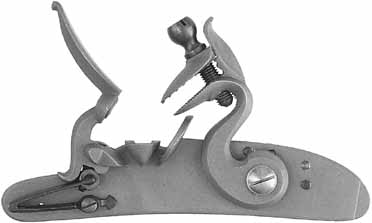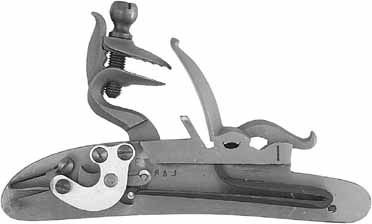 Track of the Wolf, Inc.
18308 Joplin St NW
Elk River, MN 55330-1773
Copyright © 2023Track of the Wolf, Inc.