L&R's RPL-04-F Flint Lock
to upgrade Dixie Gun Works Tennessee Rifle,
right hand only,
made in the USA,
by L&R Lock Company
This new flint lock will replace the Dixie Tennessee Mountain rifle fint lock. A new lock bolt is included.

This flint longrifle is nearly always stocked in cherry, trimmed in iron, marked "JAPAN" on the barrel, made by Miroku, Japan, for Dixie Gun Works. It nearly always has double set triggers, and often has a grease hole bored in the buttstock in lieu of a patchbox.

This lock will not fit the much earlier Dixie Longrifle made in Belgium.

Overall length is 4-11/16" x 7/8" width.

Right hand only.

This lock has thicker stronger internal springs and parts than the original lock. It requires deepening the lock mortise slightly, a few minutes of hand work. Complete illustrated instructions are included.

We recommend our English gun flint, 5/8" size perfect for this lock.



This lock is shown at exact-full-size, in Track's new catalog for gunmakers and gunsmiths.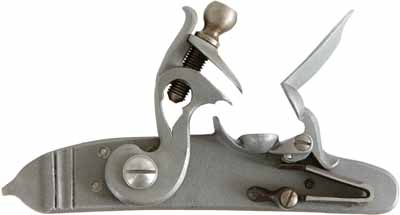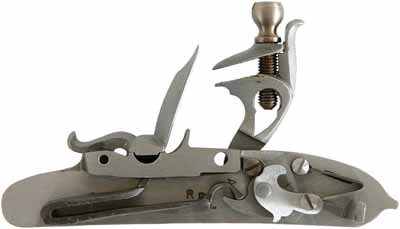 Track of the Wolf, Inc.
18308 Joplin St NW
Elk River, MN 55330-1773
Copyright © 2021Track of the Wolf, Inc.