L&R's RPL-02-F Flint Lock
to upgrade the CVA or Traditions Hawken Rifle,
right hand only,
made in the USA,
by L&R Lock Company
This flint lock will replace the large flint lock on the CVA or Traditions Hawken Rifle, from Spain.

Overall length 5-1/16" x 31/32" width.

Right hand only.Note: this lock wll not fit the Traditions Woodsman or Traditions St. Louis Hawken

This lock has thicker stronger internal springs and parts than the Connecticut Valley Arms lock. It requires deepening the lock mortise slightly, a few minutes of hand work. Complete illustrated instructions are included.



We recommend that you order a dozen #FLINT-ENG-6 English 3/4" gun flints, too.

This lock is shown at exact-full-size, in Track's new catalog for gunmakers and gunsmiths.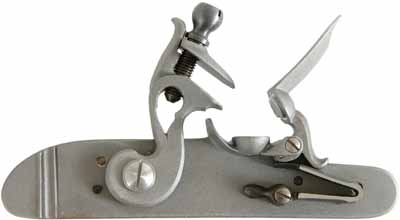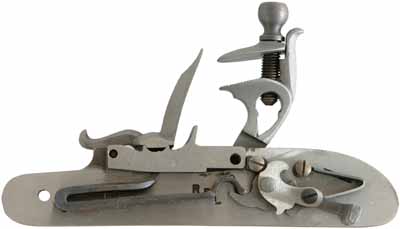 Track of the Wolf, Inc.
18308 Joplin St NW
Elk River, MN 55330-1773
Copyright © 2021Track of the Wolf, Inc.