| | |
| --- | --- |
| Late Ketland 1820 era flintlock, by R.E. Davis | |
Consider our late Ketland flint lock for your next Tennessee rifle, Golden Age flint longrifle, fullstock Hawken flint rifle, 1820 era English Sporting rifle, or London style late flint fowling gun.

A highly refined and complex lock, this design incorporates many of the features invented by London's best gunmakers during the late flint period, prior to 1830. As you compare this lock to the earlier Siler lock, you will notice many differences:

The "full waterproof pan" is made with rain gutters cut to drain any water away from the pan. The cock's jaws have been tipped down to throw sparks directly into the pan.

The erect frizzen snaps over a roller bearing on the end of the frizzen spring, which is retained by an inside screw threaded into a blind hole in the bullet shaped spring finial.

Tiny bearing surfaces set the tumbler away from the plate and bridle. A stirrup links the mainspring to the tumbler, a feature sometimes called a "percussion type mainspring" even though it was used on late flint locks. Fitted with a fly, this lock is suitable for use with double set triggers or single set triggers. Select our English style high pivot trigger and plate, which offers a very smooth and light trigger release, without set trigger complexity.

Gray matte finished outside, internal surfaces are bright. Working parts are fitted, polished, adjusted, hardened and tempered. This elegant lock demonstrates the design skills of the famous family of lock makers, for three generations, in Birmingham, England.

Use our replica of this fine English flint lock on your next custom rifle or pistol. Some of the most advanced flint designs were those produced by the Ketland family. Their locks were well respected and widely traded abroad. Many antique American longrifles carry flint locks marked Ketland, sold through Ketland's Philadelphia office.

Such late flint locks were often used with Nock's patent breech. We offer patent drawing reprints, describing this plug, as well as flint hooked plugs and tangs for rifles and pistols. This lock was often mounted using a single lock bolt, inset into a small simple sideplate inlay, often an inlaid round washer.

Like anything designed two centuries ago, parts might fail, despite modern alloys and techniques. We stock spare parts to fit the late Ketland lock, by the R. E. Davis Company. Our late Ketland flint lock is one of the few small locks suitable for barrels as large as 1-1/4" octagon, or as small as 3/4" octagon.



We recommend that you order a dozen Flint-#ENG-6 English 3/4" gun flints, too.

This lock is shown at exact-full-size, in Track's new catalog for gunmakers and gunsmiths.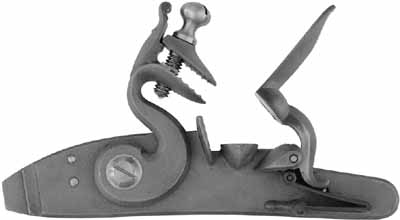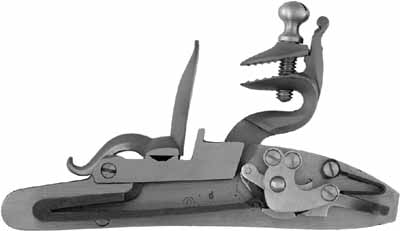 Track of the Wolf, Inc.
18308 Joplin St NW
Elk River, MN 55330-1773
Copyright © 2023Track of the Wolf, Inc.