Lock, H. E. Leman Indian Trade Rifle,
percussion, right hand, copied from Track's antique,
using Ron Long's best Hawken style internal parts
made in the U.S.A. by R. E. Davis
Henry Eicholtz Leman, Lancaster, Pennsylvania, was a prolific gun maker, one of the first longrifle makers to adopt factory production techniques.

H. E. Leman used this style lock on "trade rifles" offered to the wholesale trade.

These rifles were then resold by merchants and traders to westbound emigrants traveling down the Ohio River to Saint Louis.

This lock is correct for late longrifles, Ohio rifles, and Indian trade rifles of the 1840 to 1880 era. Unmarked, Leman often stamped his name, city, and some "engraving" (embossed with a scroll pattern hand stamp, rotated and repeated) on the hammer neck and lock plate. Other gun makers used the lock unmarked, or engraved or stamped their name and their city.

Locks made by Henry Leman's factory often have this distinctive flat tail at the rear of the lock.

The lock plate is matte finished on all surfaces, ready to be browned, blued, or polished bright. We recommend our #TRACK-BROWN reagent, for a smooth even chocolate brown finish, easily controlled.

Pre-cut for H. E. Leman's large 9/16 inch diameter powder drum. Order our matching powder drum #DRUM-9-5-F-SQ and #RST-I nipple.

The hammer has a 1.75" throw, for use with our H.E. Leman Indian Trade Rifle parts, and is designed for use with a 1" octagon barrel, as original. Is this lock architecture correct? Yes, we have the original antique Leman rifle on display in our store in Elk River, Minnesota. Not scarce, Henry Leman made a great number of these locks for his Trade Rifles, and for mail order sale to other gun makers.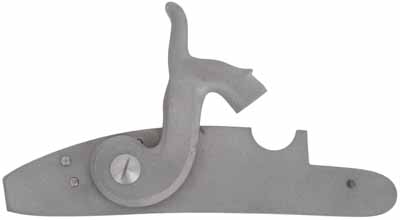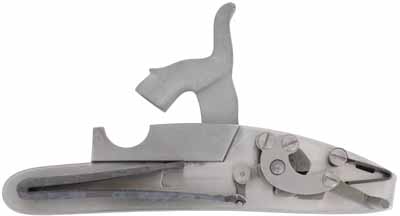 Track of the Wolf, Inc.
18308 Joplin St NW
Elk River, MN 55330-1773
Copyright © 2021Track of the Wolf, Inc.