Germanic
Jaeger Rifle
Flint Lock with new flat face cock,
by R. E. Davis Co.
This nice large flint lock is distinctly "Germanic" style for use on transitional American longrifles of the 1750-1760 era. The lock features the new Germanic cock. This lock is made for Track, by the R. E. Davis Company.

Intended for use on "transitional" longrifles, so-called because they fit midway between the early short barreled "Jaeger" hunting rifles, and the classic longrifles we know so well, these medium length rifles were generally .50 to .69 caliber, with a sliding wooden patchbox.

See George Shumway's new book, Jaeger Rifles, BOOK-J#R, sold separately.

Larger than Siler's large lock, this lock is an earlier and more decorative design. The frizzen spring is filed to a fancy shape, very handsome, retained by a hidden blind screw. Crisp flats on the integral pan mimic and amplify the octagon theme of the barrel.

Notice that the pan has no bridle arm to support the frizzen pivot screw. Instead, a massive shouldered pivot screw supports the frizzen, which tightly fits the pan.

This is the so-called "banana" lock plate design, because the plate curves gracefully. Such architecture made the lock flow with the lock panels toward the wrist. Later locks tend to be more straight.

Fitted with a fly detent, this lock works equally well with set or plain triggers. The big mainspring flexes over its entire length, an improvement over earliest production.

Use this large flint lock on an early longrifle, with straight octagon or swamped octagon barrel, 15/16" to 1-1/8" at the breech.

Our Edward Marshall and Jaeger pre-inlet stocks are cut to accept this lock.



We recommend that you order a dozen Flint-#ENG-7 English 7/8" gun flints, too.

This lock is shown at exact-full-size, in Track's new catalog for gunmakers and gunsmiths.

Click ADD TO CART, for same day shipment.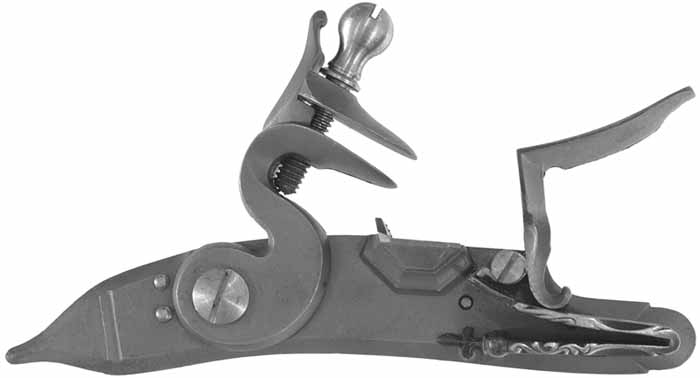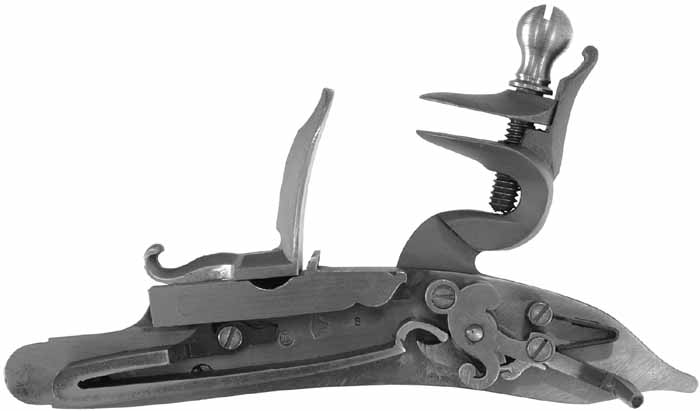 Track of the Wolf, Inc.
18308 Joplin St NW
Elk River, MN 55330-1773
Copyright © 2021Track of the Wolf, Inc.