| | |
| --- | --- |
| Golden Age era Flint Lock, by Jim Chambers | |
Golden Age era Flint Lock


This classic flint lock from America's "golden age" of longrifles is closely related to the Siler flint lock, and shares many internal parts. This lock plate is longer, front and rear, and features a frizzen spring with fancy finial, mounted with an inside screw. The graceful gooseneck cock is a bit taller than the large Siler. The tail of the pan is decorated with a contoured panel, in a style found on Prussian locks, indicating this lock's germanic heritage.

With care, a skilled gunmaker can enlarge the undersize inletting of the large Siler lock mortise in a pre-inlet stock, to accept this slightly longer lock. Most pre-inlet stocks have lock panels long enough to allow this modification.

The lock plate is polished bright inside, and is fitted with our best large Siler internal parts. These parts are an appropriate choice for correct styling, a reliable choice for dependable service, and a wise choice for locks which must be kept in good repair despite constant use in match competition. Spare parts are rarely needed, but readily available from our large stock.

Fine tuned to provide snappy action and good sparking, the strong mainspring is pre-loaded for maximum energy, and it engages the tumbler with a camming action for a smooth release and then rapid acceleration during the firing stroke. Never dry-fire a flint lock.

Grey matte finished outside, the lockplate, cock, top jaw and the back and toe of the frizzen are ready for cold browning or polishing.



We recommend that you order a dozen FLINT-#ENG-6 English 3/4" gun flints, too.

This lock is shown at exact-full-size, in Track's new catalog for gunmakers and gunsmiths.

Click ADD TO CART, for same day shipment.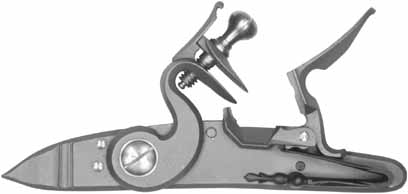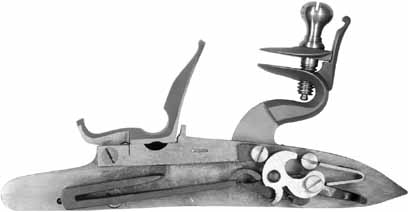 Track of the Wolf, Inc.
18308 Joplin St NW
Elk River, MN 55330-1773
Copyright © 2021Track of the Wolf, Inc.