Early Ketland Flint Lock,
with pan bridle, by Jim Chambers
Early Ketland Flint Lock


This flat faced English flint lock is made in the style of the early work of Thomas Ketland, for use on traditional American longrifles and English fowling guns of the 1750-1780 era. Unmarked, you might engrave KETLAND in block letters ahead of the cock, as many old locks were marked. A few locks also had simple floral engraving.

A bit larger than the Siler flint lock, notice that this lock has no chamfered edge. The lock plate is made to be inlet flush with the wood. Unlike Germanic locks, no moulding is filed across the tail of the plate. The pan is rounded, not octagon. This pan has a bridle arm, typical of later English locks. The frizzen spring has a spade point finial, and a front mounting screw. The cock points sparks directly into the pan.

Internally, the plate is polished bright. The tumbler and sear have raised bearing rings turned around the axles, to minimize friction. Surefire, this lock has a fly detent, to allow set triggers, if desired.

This large flint lock is recommended for early longrifles with straight or swamped octagon barrels of 7/8" to 1-1/8" size at the breech.

Cock this lock, and notice the pre-loaded heavy mainspring rides on a cam-action tumbler ramp. This gives the lock a light release, increasing in speed through the stroke, due to increasing leverage. The frizzen tightly covers the pan. As you disassemble this lock, you will feel the tumbler and screws snugly fitted to reamed holes in the bridle and plate. Parts turn smoothly, with no wobble or binding. Designed by Mr. Jim Chambers, this flat faced flint lock is modelled after an early original by Ketland. Order this lock for your next longrifle of fowler. We really like this nice flint lock.



We recommend that you order a dozen Flint-#ENG-7 English 7/8" gun flints, too.

This lock is shown at exact-full-size, in Track's new catalog for gunmakers and gunsmiths.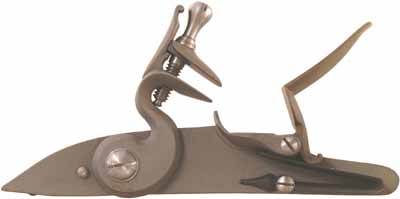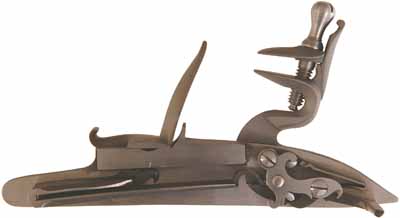 Track of the Wolf, Inc.
18308 Joplin St NW
Elk River, MN 55330-1773
Copyright © 2022Track of the Wolf, Inc.