| | |
| --- | --- |
| English Fowling Gun Flint Lock, by Jim Chambers | |
English Fowling Gun Flint Lock, by Jim Chambers



Sometimes called a "Queen Anne" lock, this best quality round faced flint lock actually dates from the 1730 to 1770 era, well after Anne's reign ended.

Our deluxe "English Fowler" lock features a tiny decorative moulding around the plate and cock. The pan has a raised rim to tightly engage the overlapping pan cover's recess, an early weatherproof feature to keep priming dry.

Larger than a Siler lock, this lock is a bit too large to retrofit our 20 gauge English Fowling Gun pre-inlet stock, which requires the slightly smaller Queen Anne Fowling Gun lock, by L&R.

These early London style fowler locks are found on colonial American longrifles and fowling guns. The tall cock sweeps a wide arc of sparks, making these larger locks among the best sparking locks we've ever offered. The pan has a bridle arm to support the frizzen pivot screw, not always found on early English locks. The plate has an integral pan, and the frizzen is tightly fitted.

Fitted with a large fly detent, this lock works equally well with set or plain triggers. A powerful mainspring engages the cam action tumbler. Bearing shoulders on the tumbler and sear minimize friction, to focus all energy into speed and sparks. Notice the long sear spring, which hides the sear spring mounting screw behind the flint cock.



This lock exactly matches our undecorated Virginia Fowler flint lock.

We recommend that you order a dozen Flint-#ENG-7 English 7/8" gun flints, too.

This lock is shown at exact-full-size, in Track's new catalog for gunmakers and gunsmiths.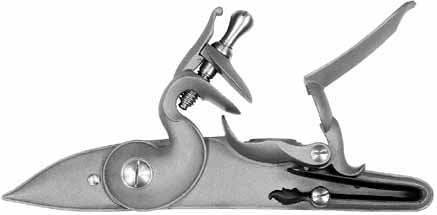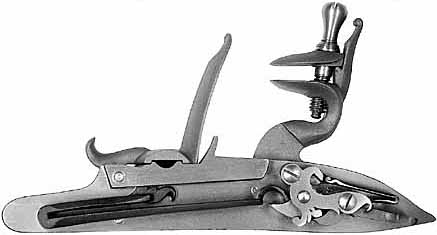 Track of the Wolf, Inc.
18308 Joplin St NW
Elk River, MN 55330-1773
Copyright © 2021Track of the Wolf, Inc.