| | |
| --- | --- |
| Powder Funnel for reloading brass cartridges by LEE | |
Powder funnel by LEE.

Suitable for reloading .22 to .45 caliber black powder cartridges, we recommend reaming the hole slightly larger, to speed pouring of coarse grain black powder, when dedicating your funnel to larger black powder cartridges. Use our #FILE-SET-NEEDLE to enlarge the orifice to pour Fg quickly, for instance.

The clever nozzle fits over the case mouth snugly, to avoid spillage.

Thie reloading tool is not made for use with muzzleloading guns, but our #FUNNEL-SB is a good choice. Our #FUNNEL-R with rosewood handle is a handsome brass funnel for reloading black powder shotshells. Our #FUNNEL-H is another similar choice.

Or, use our #MAS-120 black powder measure with integral nozzle, so no funnel is needed.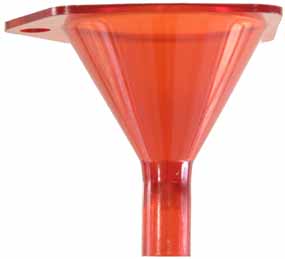 Track of the Wolf, Inc.
18308 Joplin St NW
Elk River, MN 55330-1773
Copyright © 2022Track of the Wolf, Inc.