LEE Loading Dies,
caliber .38 Short Colt
and
caliber .38 Long Colt,
Carbide,
including shell holder
This special die set is made to load either or both .38 Short Colt and .38 Long Colt.

Reloading the .38 Long Colt or .38 Short Colt for the 1851 or 1861 Navy revolver converted to cartridge, using the "heel base bullet", will produce the best accuracy, using a .375" bullet with smaller diameter "heel". These dies will not crimp a heel based bullet, which requires a collet crimp die, sold separately. You will need both these dies, and the special collet crimp die.

Reloading the .38 Long or Short Colt using the standard .358" diameter bullet works perfectly with these dies. Nothing else is needed.

Lee uses a solid carbide insert, ground to a special contour that does not leave the belt mark on the case. With a carbide sizer, no case lube is needed.

Lee Carbide Pistol dies include full length sizer, bullet seater and roll crimper, powder through expander, shell holder, powder dipper, load data and instructions.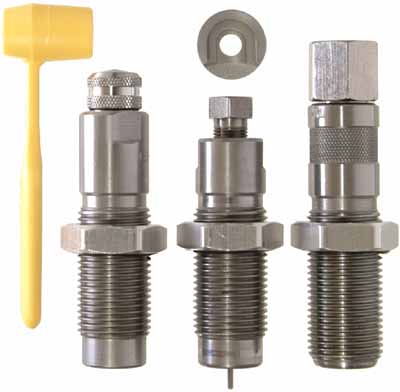 Track of the Wolf, Inc.
18308 Joplin St NW
Elk River, MN 55330-1773
Copyright © 2022Track of the Wolf, Inc.