LEE Lead Hardness Tester,
in Brinell scale
This ingenious Lead Hardness Tester quickly determines the Brinell hardness of any lead allow, known or unknown. Test the hardness of your lead scrap. Create repeatable alloys. Record your results.

The handy ball indenter, with calibrated spring mounts to your reloading press. The V block cradle fits in place of the shell holder. Follow the easy instructions, and measure the impression, using the calibrated LEE pocket microscope.

The LEE Reloading Manual, and the chart included, explain how to express Brinell hardness as Yield Strength. LEE claims that the best accuracy is obtained when chamber pressure is 90% of alloy yield strength. We have always loaded harder or softer bullets to match milder or hotter loads, but we never understood the math before!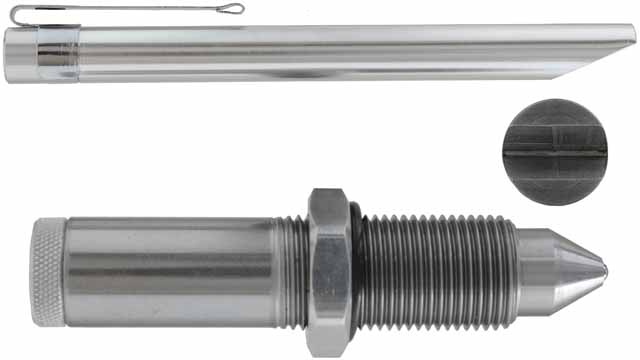 Track of the Wolf, Inc.
18308 Joplin St NW
Elk River, MN 55330-1773
Copyright © 2023Track of the Wolf, Inc.