Lee Bullet Mold, .330" diameter #00 buckshot, 18 cavity,
six (6) stacks of three (3) balls, with cam-action sprue plate,
requires #LEE-HANDLE
Lee Six (6) Cavity Mold Blocks require our #Lee Handle sold separately. The special alloy sprue plate can never attract solder smears, and has a cam action assist to ease cutting all six sprues. Each of the six cavities is three stacked .330" diameter balls for a total of 18 total pieces.

The balls are tangent to each other, and they virtually snap apart when dropped on a towel in your collection box.

Lee Black Powder Cartridge molds are aluminum blocks. Aluminum blocks won't rust, lead won't adhere, and they heat quickly. But they are softer than blued steel and require gentle handling. If you treat these high precision molds with care and respect, they will last a lifetime. The cavity cannot rust. Six cavity molds do not come with handles, order #LEE-HANDLE.

Gently break in your new mold. New molds require a break in period, and are most likely to be damaged during first use. Wash the mold cavity, dry, and lubricate the cavity and the underside of the sprue plate with candle smoke. As you cast, increase your casting speed to increase temperature and bullet quality. Apply more smoke, as needed. Be gentle!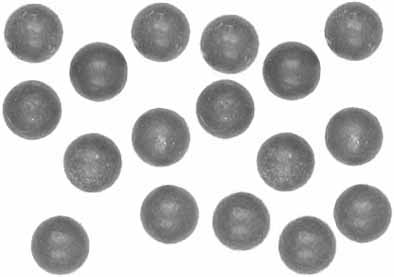 Track of the Wolf, Inc.
18308 Joplin St NW
Elk River, MN 55330-1773
Copyright © 2023Track of the Wolf, Inc.