Tiny Drop Point Knife,
2-1/4" etched blade, maple handle,
with neck sheath, made in the U. S. A.
This handy little knife has a 2-1/4" long blade made of 1/16" thick, 1095 hi-carbon steel. It is fire etched during the heat treating process and tempered to Rockwell 56. This gives a great balance of edge holding ability and yet still tough enough for heavy use. The 2-3/8" long handle is made from curly maple and stained a traditional gunstock brown to bring out the curl. The handle is retained by 3 solid brass pins.

The neck sheath is made from vegetable tanned leather which has the least amount of chemicals to react to the steel. The sheath is dyed with professional saddle maker dyes to a custom made dark brown, and saturated with neatsfoot oil and given a coat of wax for a lasting protection. A thick leather neck strap is included and may be trimmed to the desired length.

Same day shipment, when you click ADD TO CART and complete shopping cart check out. Inspect the item, return it for same day refund if not delighted. You will be pleased with your choice. You pay postage, your only risk.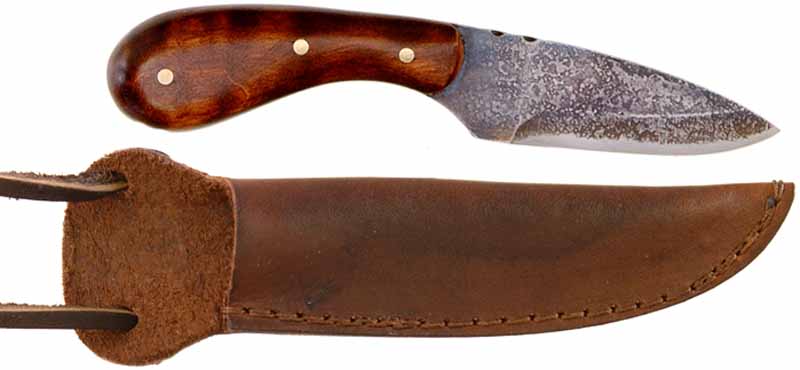 Track of the Wolf, Inc.
18308 Joplin St NW
Elk River, MN 55330-1773
Copyright © 2021Track of the Wolf, Inc.