French & Indian War era Powder Horn,
10-14",
undecorated, ideal for scrimshaw
Revolutionary War era re-enactors, and French & Indian War era re-enactors, will appreciate this nice quality 10-14" large white powder horn.

This well made powder horn is finished in early 1750 to 1770 era styling. A creamy white horn is carved to reveal a dark waist, banded groove for strap, three concave fluted bands, and a tapered tip with faceted flats. The walnut butt plug is stained dark, fitted tight, and retained by four tiny pins. A decorative scalloped lip extends past the the butt plug, and is drilled for the leather strap, included but not shown.

Hand made in the USA, this horn is a work of art. You can be proud to carry it. You can personalize this horn with your name, primitive poetry, map, or folk art scrimshaw, exactly like original horns.

When decorated with your scrimshaw engraving, this horn will make a fine First Prize for a Primitive Shooting Match, or presentation gift to Benefactors who have helped your club achieve success.

Hand made from selected large scrimshaw quality cow horns, each horn is mostly white, with some caramel or mottled coloration, ideal for scrimshaw engraving. No two horns are exactly alike.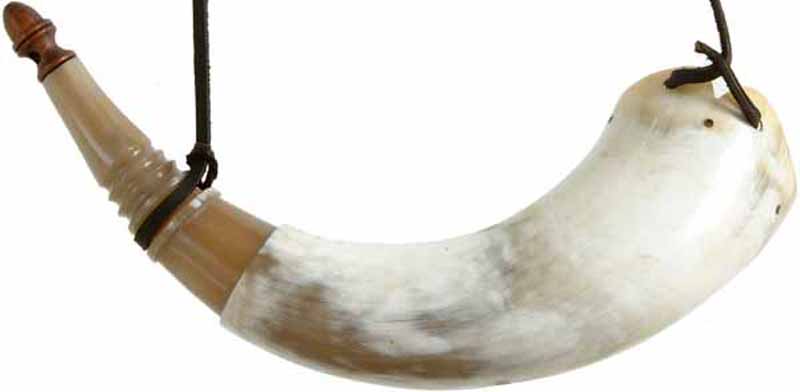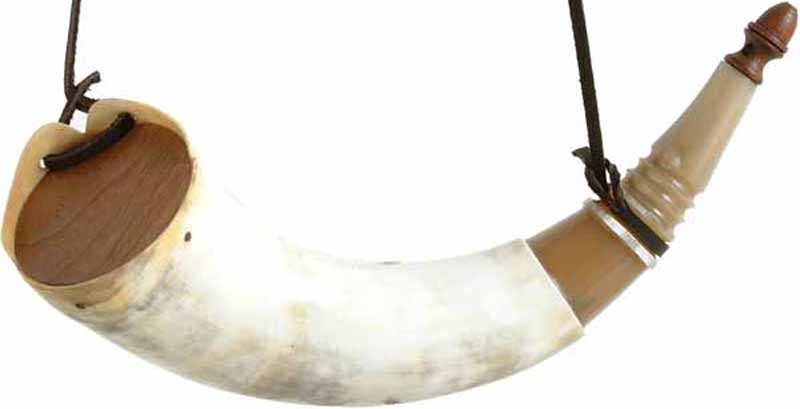 Track of the Wolf, Inc.
18308 Joplin St NW
Elk River, MN 55330-1773
Copyright © 2021Track of the Wolf, Inc.