Buffalo Powder Horn,
medum size from real American Bison,
beautifully hand made,
ideal for a Hawken or Plains rifle
This is a nice piece of American folk art, hand made in the USA. Made from a real American Bison horn, it measures from 7 to 10" when measured around the longest arc at the bottom.

The butt plug is turned hardwood, finished as walnut, about 2-1/2 to 3" in diameter. This medium size powder horn may hold perhaps 40 to 60 shots of black powder. It is an ideal companion for your Hawken, Leman, or Plains rifle.

The tapered octagon neck is about 1-1/2" length, with a raised shoulder to retain your powder horn strap. A supple leather powder horn strap is included.

The domed wooden butt plug is hand turned hardwood. The iron staple at the center will retain your powder horn strap. The butt plug is retained by several antiqued brass tacks.

Hand made, all surfaces are hand scraped and polished. Entirely black, buffalo horn have a different texture than cow horns, and always have a few small craze marks in the surface. This enhances the antique appearance of the horns. These are classic Plains buffalo powder horns.

The stopper is hand carved from hardwood, stained dark to match the butt plug, with a groove for your lanyard.

Same day shipment, when you click ADD TO CART and complete shopping cart check out. Inspect the item, return it for same day refund if not delighted. You will be pleased with your choice. You pay postage, your only risk.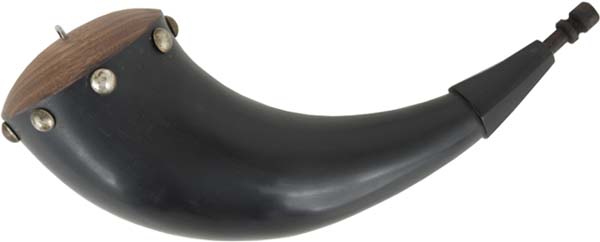 Track of the Wolf, Inc.
18308 Joplin St NW
Elk River, MN 55330-1773
Copyright © 2023Track of the Wolf, Inc.