Build Track's
French Tulle fusil-de-chasse kit,
with 42" octagon-to-round barrel,
in traditional iron, or fancy brass trim
Build Track's
French TVLLE fusil-de-chasse kit,
easy to assemble, octagon-to-round 42" barrel,
traditional iron trim, or fancy brass trim,
walnut or maple stock


Build a correct replica French TVLLE fusil-de-chasse, using Track's best kit. Choose optional upgrades, including walnut, plain or fancy curly maple; iron or brass furniture. The original antique French TVLLE fusil-de-chasse in Track's collection is 20 gauge, with traditional iron furniture, stocked in a fruit-wood that was finished to resemble walnut.

Originally made in France, at the Tulle arsenal, or at Saint Etienne, the French trade gun known as the fusil-de-chasse was a light weight gun-for-the-hunt. The stock architecture and iron trim resemble those of the heavier French military muskets, but are lighter, and more slender.

Track's Tulle fusil-de-chasse kit is an enjoyable project, that typically requires about 40 hours for the first time gun builder to assemble and finish. To simplify your work, our gunsmith can quickly and professionally install your breech plug, sights, and under-lugs, within 3 to 5 days shop time, at small extra cost.

Track's Tulle fusil-de-chasse kit is one of our easiest kits, due to the simplicity of our precision inlet tapered octagon-to-round barrel. You need merely square up the rear corners of the machine inletting to achieve a snap fit. Our North West Trade Gun kit has fewer parts, and may be a bit easier to assemble, but our 42" Tulle fusil-de-chase is our easiest French trade gun kit.

We show this Tulle fusil-de-chasse, assembled from Track's parts, by the skilled gun maker J. E. Brown. This nicely finished fusil-de-chasse is trimmed in traditional iron furniture with a bright finish, and stocked in black walnut with a oil finish.

We recommend the book The Fusil de Tulle in New France 1691-1741 by Russel Bouchard. This is a small book with great detail on all the variations of Fusil de Tulle, from the early guns, Grenadier, Buccaneer, Hunting, Fine, Pistol and Ordinaire. Details on all measurements and markings, and photos of differences in hardware. A wonderful small reference. Soft bound volume of 47 pages, 6-3/4 x 10" format.

Our top view shows the long baluster wrist, tapered comb of the buttstock, and the simple finial on the comb of the buttplate, on our Tulle fusil-de-chasse. Our pre-carved stock has the raised carved finials indicated around the tang and lock panels, which you may include or omit. Originals were hand made, in small contracts, over many years, and the decoration varies.

Our bottom view shows the classic rounded baluster wrist, which begins at the trigger, and runs to the toe of the buttplate. This typical French architecture seems strange today, but is quite comfortable to aim and shoot. It feels about the same as a modern gun, despite the distinctive shape. Notice the extended finials, with rounded ends, on French triggerguards.

Our back view of this fusil by J.E. Brown shows the hand rubbed finish, rubbed to a low gloss satin sheen. We offer this set of parts with the traditional flat sideplate, in either iron or brass. Most sideplates were flat. Only one convex sideplate is known.

Build your own French Tulle fusil-de-chasse from our set of parts. Our 20 gauge smooth bored 42" barrel is tapered octagon at the breech, becoming round, with wedding bands at the transition. The bore diameter is .615", and the breech is 1" octagon, plenty strong, for full loads with patched round ball when hunting deer, or lead bird shot, when hunting upland game.

Alternate barrel choices now include: 24 gauge smoothbore, .54 , or .58 caliber barrels with round bottom rifling for shooters that want the French styling, but prefer a rifle.

Our French Tulle furniture; buttplate, sideplate, triggerguard, and 3/8" ramrod pipes, are offered in wax cast brass or more traditional iron (steel). The sideplate is the more common flat, rather than the convex shape. The correct style single trigger, and trigger plate are designed to fit our pre-inlet stock. Correct unplated screws and pins are included, as well as a full scale blue-print. Barrel underlugs are machined from solid steel, and will need to be soldered to the barrel. Front sight options included our brass, nickel silver, iron, or sterling silver fusil sight. We offer our taller fusil front sight, #FS-FUSIL-2 for use with a rear sight with rifled barrels. Our gunsmith can install these after fitting the breech plug, at small extra cost.

Track's best Tulle fusil-de-chasse parts set features a precision pre-inlet stock. Pre-inlet on Allen's patent 5 axis pantograph. Fully shaped, cut for our 42" octagon to round barrel. Pre-inlet for Track's Fusil lock, triggerguard, buttplate, trigger, trigger plate, sideplate, rod pipes, and drilled for a 3/8" rod.

Our pattern was refined by Michael Hayes from a original Tulle musket found in Canada. Guns of this style were offered by French traders, across Canada and the Northern colonies, until the French were defeated by the British and ejected from Canada in 1763. Pull length is about 13-3/4", drop is 2-1/2" measured from the line of sights. Buttplate end is about 2" wide, and 4-3/4" tall. Offered in plain maple, fancy maple or plain walnut.

This flint lock is patterned from a antique Tulle fusil-de-chasse circa 1727. This lock uses the so-called "forged" plate design, with attached pan, but no pan bridle arm in early fashion. The frizzen pivots on an oversize shouldered screw. In French fashion the wax cast lock plate is shaped with a chamfered edge around the plate that terminates behind the flint cock. The lock plate is also marked with A. TVLLE in antique fashion. The marking has a slight curve, as found on antique muskets.

Our parts are sold with a flash hole liner, often called a vent, vent liner, or touch-hole liner in 1/4-28 thread. We also offer the Jim Chambers White Lightnin' vent as a option. The special 1/4-32 fine threads allow an extra large concave cavity inside, for use on 13/16" to 1" octagon barrels. Made in the USA, stainless steel, with removable lug for easy installation. Order our #TAP-1/4-32 tap and tap drill, to install 1/4-32 vents.

Concave inside, the White Lightnin' vent liner brings the main powder charge very close to the incandescent heat of the priming flash. Position the vent on the center of the pan, slightly above the pan to frizzen joint, sometimes called the "sunset" position. Covered by the frizzen when closed, the hole is a window centered on the heat of your priming flash, for instant ignition, without the whoosh-bang delay, seen in many flint guns.

Typically only the better quality London made guns were factory fitted with vent liners, but nearly all flint guns were later fitted with vent liners, after the vent hole in the barrel became worn from flash erosion, corrosion, or the aggressive use of a vent pick.

Gunsmithing Labor Options are a popular low cost method of speeding assembly. Our gunsmith can install the plug (#LABOR-BP), solder front sights (#LABOR-US), and underlugs (3 #LABOR-UL) at small extra cost, with prompt delivery.

#LABOR-BP: Our gunsmith will install your breech plug, in your barrel, with the front face of the breech plug tightly sealed against the inside shoulder of the breech thread, and the barrel maker's name indexed to the bottom flat. Threads are lubricated with Birchwood Casey's Choke Tube Lube anti-seize, so the plug may be removed, even after decades of use. Never remove a breech plug, unless you have a compelling reason. The plug is never removed for cleaning, and should only be removed by a skilled gunsmith, who has the correct tools to avoid marking your polished and finished barrel and plug.

#LABOR-US: Our gunsmith will install your soldered lug or sight: promptly, perfectly centered, ready for use, at low cost. Specify locations, or allow us to choose the best positions. We require fitting the breech plug before performing this operation.

#BOOK-RAL: We strongly recommend Recreating the American Longrifle, by William Buchele. The late William Buchele was recognized as a true master longrifle maker. But his greatest contribution to muzzle loading must be this book. He shares the step-by-step details of his craft. His work has been enhanced by the editors. This book does not assume that the reader is an expert stock maker, but begins with illustrated explanations of the basic concepts. Buchele shows several alternate approaches to most tasks. This newly revised fifth edition includes full scale plans for a carved flint longrifle, and fullstock flint pistol. Over 250 photos and drawings, within 176 pages, 8-1/2 x 11" format, soft cover.

BOOK-FINF: The Fusil de Tulle in New France, 1691-1741, by Russel Bouchard. This is a small book with great detail on all the variations of Fusil de Tulle, from the early guns, Grenadier, Buccaneer, Hunting, Fine, Pistol and Ordinaire. Details on all measurements, and photos of differences in hardware. A wonderful small reference. Soft bound volume of 47 pages, 6-3/4 x 10" format.

#DVD-BML: Building Muzzle-Loaders VHS video with rifle maker James Turpin. Rifle maker James Turpin takes you start to finish on building a quality Muzzle-Loading flint rifle. Designed for the beginning to intermediate builder. DVD format, 142 Minutes.

#DVD-BE: The Gunsmith's Apprentice Series Presents Beginning Engraving, taught by gunmaker Jack Brooks. With this video you can learn to engrave in the manner and style of the original masters. In this presentation the nationally known traditional longrifle builder Jack Brooks teaches the viewer the essentials of chasing, pushing & wriggle engraving. Beginning with the basic tools, Jack shows the sharpening and heat treating of both square and chisel point engraving tools, and demonstrates the techniques used by period American gunsmiths to decorate their firearms. In addition, the engraving of several original 18th and 19th century longrifles is examined in detail. Over 70 minutes long. DVD format.

Typically 40 hours of skilled labor is required to build a longrifle rifle. Drilling and tapping required. Use of a drill press in recommended. A skilled mentor, as always, can be a invaluable aid in building any rifle.

Gun building is fun! Click ADD TO CART, and send your order, for same day shipment.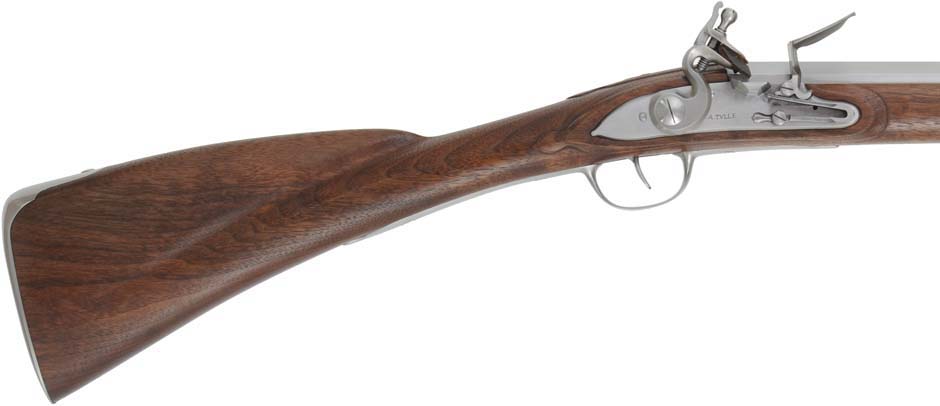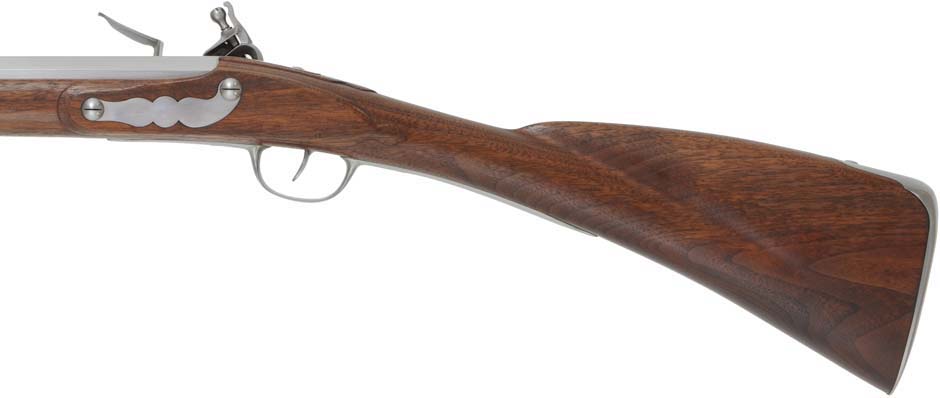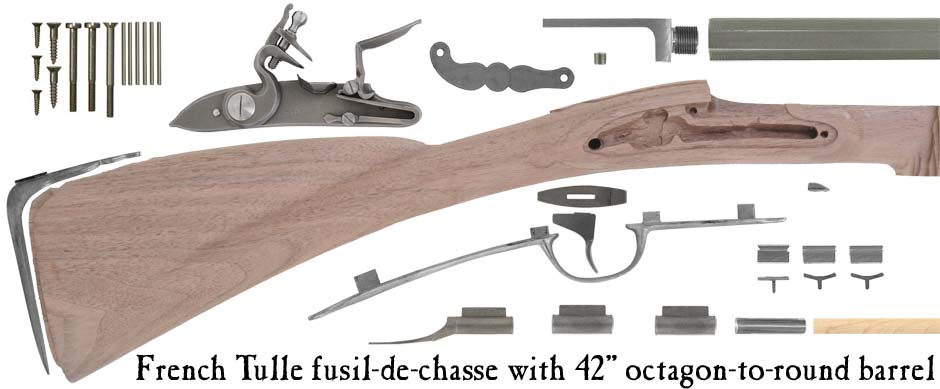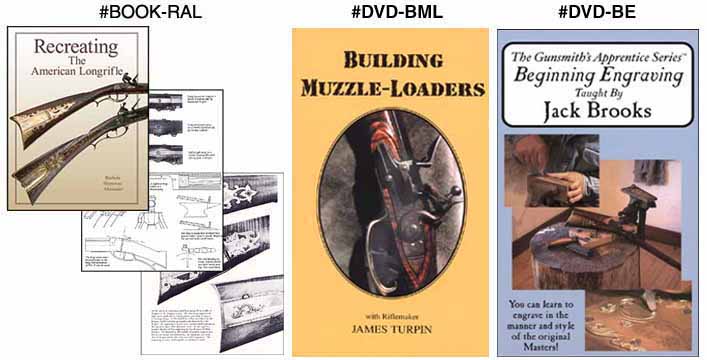 Track of the Wolf, Inc.
18308 Joplin St NW
Elk River, MN 55330-1773
Copyright © 2021Track of the Wolf, Inc.