| | |
| --- | --- |
| Tom Fuller's English Gun Flints are the best in the world! | |
The finest natural flint occurs as dense grey-black nodules, within chalk deposits. Tom Fuller, a young man with a deep interest in the tradition and "lost art" of flintknapping, continues the trade. He is today's premier gun flint maker, not so much interested in quick work, but watching, measuring, and predicting each fracture line. As he forms fine flints from gentle taps, we quickly recognize that this work, like diamond cutting, is truly a art form! Happily, he is teaching his son, and others, this lost art.

We import these best quality English flints, in quantity, several times each year. We keep a large supply on hand for immediate delivery during the peak summer and fall shooting seasons. However, flints are a rare commodity, entirely hand made, from selected English flint nodules, in a variety of sizes.

Order a few samples, test them, and determine which size sparks best, and lasts longest, in your flint lock. Re-order a full year's supply of perhaps 30 to 100 flints. Be ready for match shooting and hunting.

English gun flints never spoil, never go out of style.

Does your lock seem to prefer flints that are thicker, thinner, flatter, shorter, longer, or more nearly square? Tell us what you need, and we will do our best to select the best flint for your lock. Or specify which gun or lock you have, in our shopping cart comment box, and we will select the best size, for you. We like these nice flints!

#FLINT-ENG-3: About 3/8" width and 5/8" length, to fit very tiny flint locks, original antique pocket pistols, and box lock muff pistols.

#FLINT-ENG-4: About 1/2" width and 5/8" length, for locks such as Becky's tiny lock, CVA, H&A, Russ Hamm, Pedersoli's Kentucky, Queen Anne, and Harper's Ferry pistol.

#FLINT-ENG-5: About 5/8" width and 3/4" length, for most medium size flint locks. Used in our small Siler, L&R's Bailes, Thompson Center, Cochran, CVA, Hamm, Dixie, Traditions, Maslin, Shoultz, Palmetto's Ashmore, Barnett, and Lancaster locks.

#FLINT-ENG-5S: About 5/8 by 5/8" square. Made for older small Siler flint locks that will not allow the frizzen to close on a 5/8" flint. We stock this odd size flint due to so many requests from our customers.

#FLINT-ENG-6: About 3/4" width and 7/8" length. Our most popular flint. This "standard rifle" flint fits most L&R locks, the late Ketland, 1803 rifle, and many others. Used in our large Siler lock, it gives extended life.

#FLINT-ENG-6S: About 3/4 x 3/4" square, to fit older large Siler flint locks which will not allow the frizzen to close on a 3/4" flint. We stock this odd size flint, due to so many requests from our loyal customers.

#FLINT-ENG-7: About 7/8" width and 1" length flint for early flint locks, including our 1750, Jaeger, Christians Spring, Tulle, Twigg, Jim Chambers' Fowler and early Ketland, Hatfield (aka Missouri River Rifle Co.), Cabela's Blue Ridge, and Pedersoli's Frontier locks all seem to like this 7/8 x 1" flint, too.

#FLINT-ENG-8: About 1" width and 1-1/8" length for small muskets and fusils. Typically used in Tryon, Lott, 1777 Charleville musket lock, Wm. Chance lock, Navy's 1763 Charleville, North Star's sitting fox and similar trade gun and fowling gun locks.

#FLINT-ENG-9: About 1-1/8" width and 1-1/4" length. Military muskets often work best with this size flint. Try this size in your Grice, Stowe, or Tower marked Brown Bess. Many original military locks such as the Springfield 1816 and later variations work best with this size. Pull your gun to half cock. Check and see if it will clear the 1-1/8" width and 1-1/4" length?

#FLINT-ENG-10: About 1-1/4" width and 1-1/2" length, over-sized flint for big military muskets, wall guns, African trade guns, early flint guns with oversize locks.

Unsure how fit to find the proper size flint? First find the largest size that will fit. Pull the cock to the half cock position. Measure from the front of the top jaw screw, to the face of the frizzen. A flint longer than this distance will hold the frizzen open at the half-cock, exposing the priming powder.

The flint should be as wide as possible without overhang. If the flint overhangs the inside edge of the frizzen, it may be possible for the flint to gouge the barrel as the cock swings through its' arc.

We have installed this flint "flat side up" to strike the frizzen high, giving a longer stroke, and more sparks. The flint is well within 1/8" of touching the frizzen on this lock by L&R. This small gap between flint and frizzen is correct.

If the flint is too short, the top jaw or screw may hit the frizzen. Or the frizzen may fail to may fail to "snap over" at the end of the stroke.

A leather pad is essential to properly grip the flint. Select a scrap of thin soft leather, suede, glove leather, etc. First cut or punch a small hole in the center, a bit larger than the diameter of the top jaw screw. Second inset the leather to these edges. Trim the leather to these edges. Overhanging edges may char. Third fold the leather, insert the flint, and tighten the jaw screw with a well fitted screw driver blade.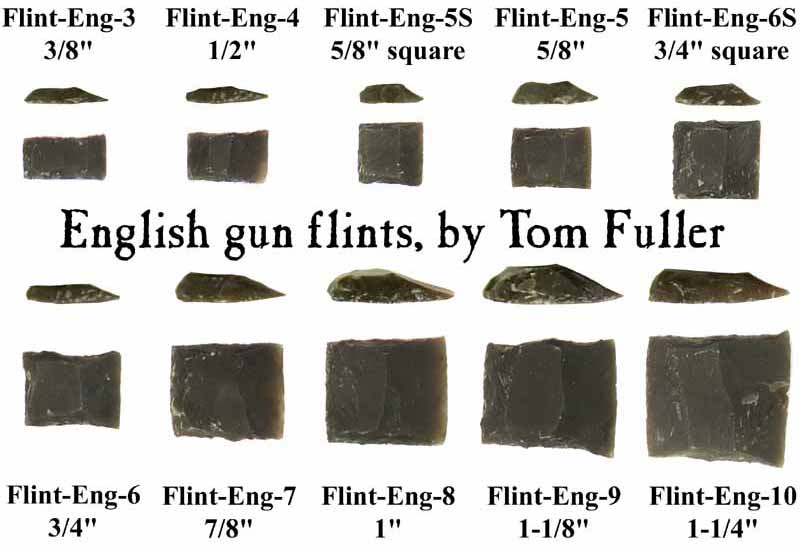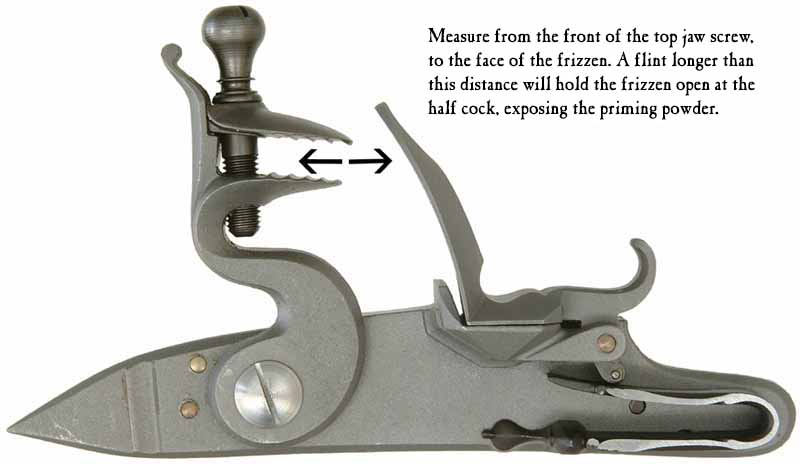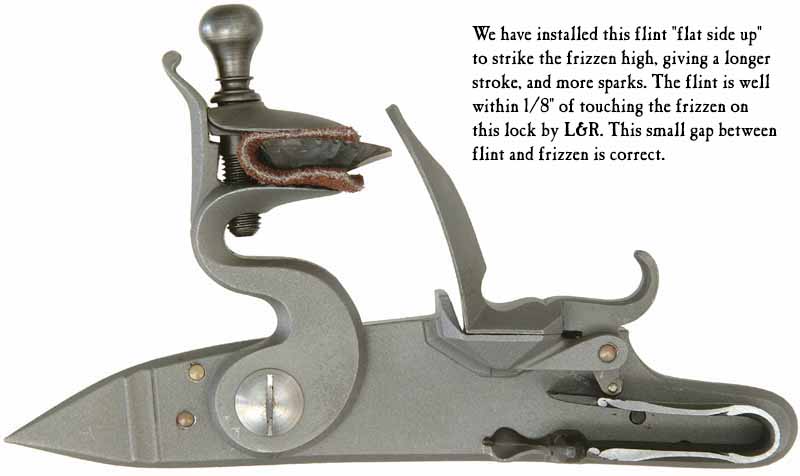 Track of the Wolf, Inc.
18308 Joplin St NW
Elk River, MN 55330-1773
Copyright © 2021Track of the Wolf, Inc.