Build Track's Colonial Longrifle parts set,
with 13/16", 7/8", or 15/16" straight octagon barrel
These parts have been specially chosen to replicate a fine early longrifle, typical of those made during and after our Revolutionary War. This set is now shown with wax castings which are much easier to clean-up than sand castings. Our default barrel choice is a quality U.S. made straight octagon barrel blank with other manufacturers barrels available.

Colerain Barrel Company offers a select few calibers in 13/16", 7/8" and 15/16" straight octagon barrels. Offered in .36, .40, .45, .50, or .54 caliber depending on octagon size. Colerain straight octagon barrels are threaded to accept the breech plug. Colerain rifle barrels are the favorite choice of today's best muzzle loading gun makers, because knowledgeable shooters demand Colerain's accuracy, inside and outside. Founded by two entrepreneurs, Scott Keller and Scott Kelly were tutored by Bob Paris, the famous rifle barrel maker who was first to perfect the technique for production of correct swamped barrels.

Colerain rifle barrels are cut rifled, with fancy radius groove rifling geometry, in correct twist rates for round balls. Colerain rifle barrels are drilled from solid steel. Each barrel has six "round bottom" grooves, called "radius groove rifling". Colerain eliminates the sharp inside corner that accumulates fouling. Radius groove rifling cutters are a bit more expensive to make, but Colerain's customers agree that the accuracy, easy loading, and easy cleaning are worth the cost.
Cut rifled, with .012" to .016" deep grooves, depending on caliber.
1 turn in 48" twist, in .36 or .40 caliber.
1 turn in 56" twist, in .45, .50 or .54 caliber.
Green Mountain barrels are 13/16", 7/8", or 15/16" octagon, 36" or 42" in length, and come threaded for breech plug. Available rifled in .40, .45, .50, or .54 calibers. Green Mountain muzzle loading rifle barrels are machined from high quality American made bar stock, A.I.S.I. 1137 modified, stress relieved, annealed, certified rifle barrel quality steel. All barrels are drilled from solid stock, reamed to a high degree of smoothness, then optically checked for straightness. Very close tolerances are maintained. Diameters vary less than .0002" within any bore.

Cut Rifling Specifications:
Each barrel has eight lands and grooves.
Grooves cut .010 to .012" deep, depending on caliber.
Twist is 1 turn in 56 inches for .40 caliber.
Twist is 1 turn in 60 inches for .45 caliber.
Twist is 1 turn in 70 inches for .50 and .54 caliber.
Our early Lancaster County longrifle fullstock is ideal for a Revolutionary War era longrifle. Shaped for a right hand shooter with a square cheek piece. No lock or triggers are inlet. Barrel channel is cut for a 13/16", or 7/8" straight octagon 42" barrel. The stock is drilled full depth with a 3/8" rod hole. Pull length is up to 14-3/4", drop is 3-1/2" from sights. Butt end is about 4-7/8" x 1-5/8", not cut for the buttplate.

We offer a complete set of wax cast furniture in brass, to fit this rifle. We list the formed brass sheet, muzzle cap, forward and entry ramrod pipes, 48" ramrod, and ramrod tip.

Sideplate options: We recommend one of these wax cast sideplates to be fitted to the early longrifle stock. As cast, the castings need to have the casting gates removed by filing or grinding, and must be polished, then drilled for lock bolts, as needed.

#SP-FG-41-B: This sideplate is wax cast in brass in a classic design with sweeping curves and a pointed tail.

#SP-FG-40-B: This sideplate is wax cast in brass in a classic design with a pointed arrow tail..

#SP-FG-43-B: Wax cast with a pointed tail in brass. This sideplate resembles those used on Lancaster and York County longrifles. See pages 105 and 144 of Behold the Longrifle, by Chandler and Whisker.

Toeplate options: Protect the fragile toe of your rifle from chips, nicks, and dents. These will need to be drilled and countersunk for mounting screws.

#TP-PA-1-B: Isaac Haines, Lancaster County, with thumbnail finial. This short wide toeplate is modeled after the work of Isaac Haines, Lancaster County, Pennsylvania, circa 1770. It is ideal for a early longrifle. Made in the USA, of .062" brass.

#TP-KGW-1-B: A nice and simple designed toeplate, suited to longrifles. Made in the USA, of .062" brass.

#TP-TC-R-B: A short, simple toeplate with a pointed finial. Made in the USA, of .062" brass.

Front sights: Choose from a thin or thick nickel silver blade with brass base. Or wax cast brass or steel sight with integral sight base.

#FS-TC-HB: Polished silver blade with brass base. Rounded silver blade is 3/8" tall. The copper or brass dovetail base is .370" long, .750 wide, and .092" deep. Don't file off the ends to match the barrel.

#FS-TC-BB-81: Polished silver blade with brass base. Rounded nickel silver blade is a sturdy .080" thick and .375" tall. Brass dovetail base, .370" long, .780" wide, and .090" deep base. Made in the USA.

#FS-PA-38-B or I: Wax cast, this strong casting has an integral dovetail base .385" long, .062" deep, and .600" wide. A small fillet re-inforces the joint. Available brass or iron.

Rear sights:

#RS-FG-14 or 16: Wax cast steel, not polished, this rear sight has a long base often found on early rifles. This small version is made for a longrifle with a slim 13/16" or 7/8" octagon barrel. The sight has a small notch centered on the blade. Made in the U. S. A., dovetail to a depth of .050" deep. Base for 13/16 or 7/8" barrel is about .685" long, .530" wide as cast. Blade will stand .250" above the plane of the barrel. Base for 15/16" barrels is about .725" long, .585" wide as cast. Blade will stand .275" above the plane of barrel.

#RS-G-354-14 or 16: About 3/8" tall, this rear sight strongly resembles a popular original design. Sized to fit a longrifle or Kentucky pistol with a 13/16", 7/8" or 15/16" octagon barrel. Made in the U.S.A., the dovetail is approximately .640" long as cast, and the sight base is .470" wide. File it to fit your dovetail slot.

We offer a single trigger, or double lever double set triggers for this rifle. The trigger plate is not pre-inlet in the stock, so either trigger will require inletting. The small rectangular trigger plate is easy to install.

#TR-BIVINS-TP: Trigger & plate was designed by John Bivins. Originally, this trigger was intended to be pinned to the wood. The trigger plate served only as a "wear plate". We have added lugs to the plate, to serve as an integral pivot point. However, it is possible to drill the pivot hole high in the corner, and pin the trigger to the stock, if desired. Notice that the trigger is .077" thick, and the plate has a .079" slot.

#TR-DST-4, is our "double lever" double set trigger, with a front trigger lever, to engage the sear, allowing the lock to be fired with the trigger unset. Wax cast steel parts are finished, tempered and assembled. We stock spare parts, in the unlikely event that any part will ever break. The trigger bars is about 5-3/8" length, .400" width.

We suggest one of two options for the lock. The L&R Durs Egg flintlock or the Jim Chambers Golden Age flintlock. The L&R Durs Egg flintlock would be a fine choice for a rifle from a region with a strong English trade influence. Perhaps London's most innovative lock and gun maker, Mr. Durs Egg immigrated from Switzerland, setting up shop in London, the world's arms making center in his time.Actually, "Durs" was a nickname, but Mr. Egg adopted it as his own. We are glad he did. Once you have used this lock, you will never confuse the "Durs Egg" with any other. Use this lock on fine English rifles and fowlers of the 1770 to 1810 period. Patrick Ferguson's breech loading flint rifle used this lock. Much more complex than the large Siler lock, yet it is about the same size. Cock jaws direct sparks into the semi-waterproof pan with rain gutters. The fancy frizzen pan cover flange seals the pan. The fancy "frictionless" tumbler and sear have raised bearing rings turned around screw holes, preventing moving parts from rubbing the plate or bridle. Sometimes called a "ghosted" lock, since you can see through the frictionless parts, when viewed from above.

The Jim Chambers Golden Age flintlock, #LOCK-GA-FR, from America's "golden age" of longrifles is closely related to the Siler flint lock, and shares many internal parts. This lock plate is longer, front and rear, and features a frizzen spring with fancy finial, mounted with an inside screw. The graceful gooseneck cock is a bit taller than the large Siler. The tail of the pan is decorated with a contoured panel, in a style found on Prussian locks, indicating this lock's Germanic heritage. Grey matte finished outside, the lock plate, cock, top jaw and the back and toe of the frizzen are ready for cold browning or polishing.

The lock plate is polished bright inside, and is fitted with our best large Siler internal parts. These parts are an appropriate choice for correct styling, a reliable choice for dependable service, and a wise choice for locks which must be kept in good repair despite constant use in match competition. Spare parts are rarely needed, but readily available from our large stock. Fine tuned to provide snappy action and good sparking, the strong mainspring is pre-loaded for maximum energy, and it engages the tumbler with a camming action for a smooth release and then rapid acceleration during the firing stroke. Remember never dry-fire a flint lock.

Flash Hole Liner, touch hole liner, or vent liner, is an essential part of our kit. Our standard vent has the popular 1/4-28 thread. We also offer the Jim Chambers White Lightnin' vent as a option. The special 5/16-32 fine thread allows an extra large concave cavity inside, for use on swamped octagon barrels. Made in the USA, stainless steel, with removable lug for easy installation. Order our #TAP-5/16-32 tap and drill, if you prefer this special vent.

Concave inside, the White Lightnin' vent liner brings the main powder charge very close to the incandescent heat of the priming flash. Position the vent on the center of the pan, slightly above the pan to frizzen joint, sometimes called the "sunset" position. Covered by the frizzen when closed, the hole is a window centered on the heat of your priming flash, for instant ignition, without the whoosh-bang delay, seen in many flint guns. Typically only the better quality London made guns were factory fitted with vent liners, but nearly all flint guns were later fitted with vent liners, after the vent hole in the barrel became worn from flash erosion, corrosion, or the aggressive use of a vent pick.

Patchbox, although not required, was often fitted to a Lancaster County longrifle. We offer a number of correct choices. These may be installed with the included cam-over-center spring, or using our push button release kit, at extra cost.

#PB-KIT-1-B: copied from a rifle signed by Jacob Dickert, shown in Gunsmiths of Lancaster County Pennsylvania. Springs and assembly instructions are included. Offered in traditional brass, or nickel silver, about 7-1/2" length.

#PB-KIT-9-B: attributed to Jacob Dickert, shown in Rifles of Colonial America, by George Shumway. Spring and instructions included. Select brass or steel. 6-1/2" overall length.

#PB-KIT-2-B: This patchbox kit has a neatly formed hinge, and is slightly curved to conform to the shape of your buttstock. Tempered springs and instructions are included. Made of brass, brass is the traditional trim for an early longrifle. We recommend mounting the patchbox with our #SCREW-6-1/2 unplated iron wood screws. The early wide lid has an uncut square head, which you may cut to your desired pattern. The lack of side panels on either edge of the patchbox lid are typical for an early patchbox, or you may add your own side panels. 7" overall length.

#PB-RK-TOW-B or I: This high quality patchbox release kit is made for use with brass, iron, or nickel silver patchboxes. The kit includes four precision steel parts, two unplated steel screws, and fully illustrated instructions. Made with your choice of a brass or steel release button.

#PB-RK-WOOD Sliding Wooden Patchbox latch, is not shown. Our wax cast steel 3-1/2" lever spring is modeled after originals used on early Colonial era longrifles, with sliding wooden patchboxes. Easily fitted under your sliding patchbox lid, lift the thumb button to release the latch.

Gunsmithing Labor Options are a popular low cost method of speeding assembly. Our gunsmith can install the plug (#LABOR-BP) front and rear sights (2 #LABOR-DS), and underlugs (3 #LABOR-UL) at small extra cost, with prompt delivery.

#LABOR-BP: Our gunsmith will install your breech plug, in your barrel, with the front face of the breech plug tightly sealed against the inside shoulder of the breech thread, and the barrel maker's name indexed to the bottom flat. Threads are lubricated with Birchwood Casey's Choke Tube Lube anti-seize, so the plug may be removed, even after decades of use. Never remove a breech plug, unless you have a compelling reason. The plug is never removed for cleaning, and should only be removed by a skilled gunsmith, who has the correct tools to avoid marking your polished and finished barrel and plug.

#LABOR-DS: When you buy the sight from us, we will remove any burrs, gates, or parting lines, and hand fit the sight to the dovetail slot, ready for you to finish and use. Many of our rear sights are cast with an oversize base, to allow these to fill oversize slots. It is wise to allow us to trim these to a standard size, before installation in a new barrel. We must install the breech plug before installing sights, rib, or pipes.

Front sight slots are centered 1.5" from muzzle, unless your clearly specify another location. Do not embed special instructions within lengthy text of a letter. Place special instructions immediately after your written order for that item, or in the comment field of our on-line order form.

Rear sight slots are centered 8.5" from the breech end of the barrel (not including plug), unless your clearly specify another location. Do not embed special instructions within lengthy text of a letter. Place special instructions immediately after your written order for that item, or in the comment field of our on-line order form.

#LABOR-UL: When you buy the lugs from us, we will remove any burrs, and hand fit the lug to the dovetail slot, ready for you to finish and use. Allow our gunsmith to determine the best location for lug. Typically these rifles require three lugs. We require the breech plug to be fitted before performing this operation.

#BOOK-RAL: We strongly recommend Recreating the American Longrifle, by William Buchele. The late William Buchele was recognized as a true master longrifle maker. But his greatest contribution to muzzle loading must be this book. He shares the step-by-step details of his craft. His work has been enhanced by the editors. This book does not assume that the reader is an expert stock maker, but begins with illustrated explanations of the basic concepts. Buchele shows several alternate approaches to most tasks. This newly revised fifth edition includes full scale plans for a carved flint longrifle, and fullstock flint pistol. Over 250 photos and drawings, within 176 pages, 8-1/2 x 11" format, soft cover.

#DVD-BML: Building Muzzle-Loaders VHS video with rifle maker James Turpin. Rifle maker James Turpin takes you start to finish on building a quality Muzzle-Loading flint rifle. Designed for the beginning to intermediate builder. DVD format, 142 Minutes.

#DVD-BE: The Gunsmith's Apprentice Series Presents Beginning Engraving, taught by gunmaker Jack Brooks. With this video you can learn to engrave in the manner and style of the original masters. In this presentation the nationally known traditional longrifle builder Jack Brooks teaches the viewer the essentials of chasing, pushing & wriggle engraving. Beginning with the basic tools, Jack shows the sharpening and heat treating of both square and chisel point engraving tools, and demonstrates the techniques used by period American gunsmiths to decorate their firearms. In addition, the engraving of several original 18th and 19th century longrifles is examined in detail. Over 70 minutes long. DVD format.

Typically 40 hours of skilled labor is required to build a longrifle rifle. Drilling and tapping is required. Use of a drill press in recommended. A skilled mentor, as always, can be a invaluable aid in building any rifle. Gun building is fun! Click to view the prices and options. Choose the options ADD TO CART and complete checkout to send your order, for same day shipment.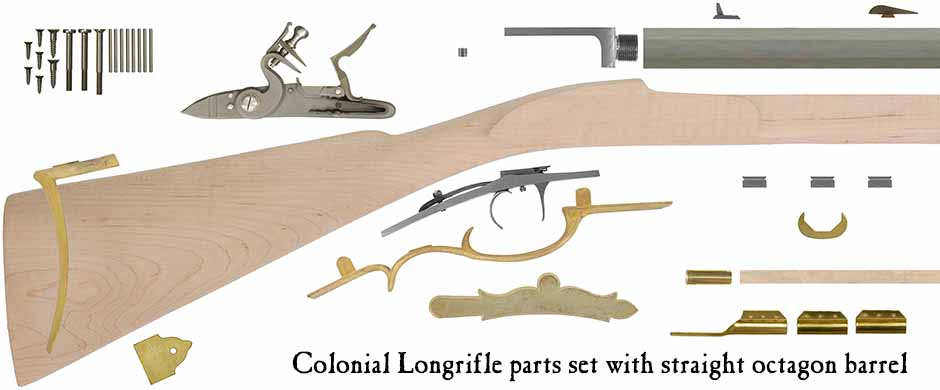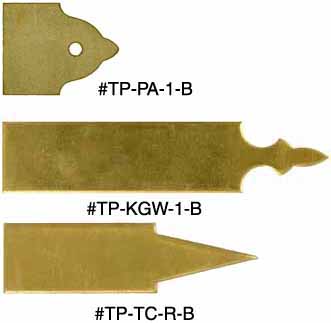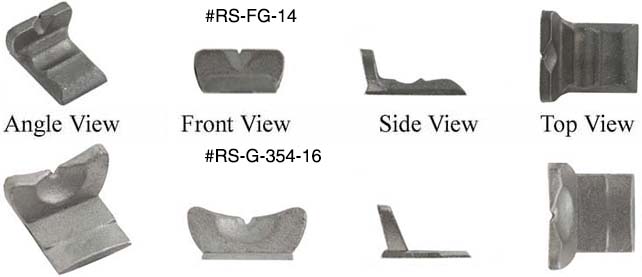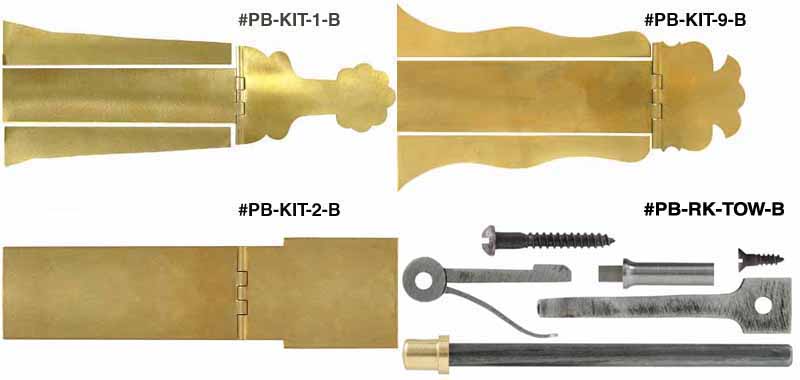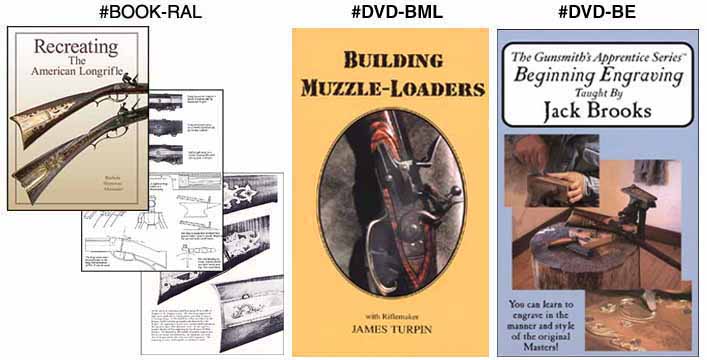 Track of the Wolf, Inc.
18308 Joplin St NW
Elk River, MN 55330-1773
Copyright © 2021Track of the Wolf, Inc.