.50 Caliber Firearm Cleaning Set
10-32 threads
Clean your .50 caliber firearm with Track's Cleaning Kit! Clean guns improve accuracy. This terrific set includes everything you need to keep your firearm clean and in fine working order. All accessories in this set feature 10-32 threads. Items include:



Cleaning Patches: Bag of 100 pure cotton flannel patches, 2-1/2" in diameter. #Ox-Clean-58-C

Bore Clean: Cleans up after Black Powder, Pyrodex, Clean Shot, Clear Shot, and Wonder Lube! Track's best Bore Cleaner Solvent is nonabrasive, contains no soap, and will not soften wood finishes. Use it as a patch lube to help keep your bore clean while target shooting. Full size, 8 ounce bottle with flip-top spout. #Bore-Clean

Bronze Bore Brush: Used to loosen black powder residue from the inside of the barrel. #Brush-50

100% Cotton Bore Mop: Used to clean and lubricate the inside of the barrel. #Bore-Mop-50

Brass Fouling Scraper: Used to loosen black powder residue from the barrel breech. #FS-50-10

Ball Puller: Simply attach to the end of your ramrod or cleaning rod to remove stuck lead balls. #BP-50-10

Cleaning Jag: Works in conjunction with cloth patches to clean the inside of the barrel. #JS-50-6-10

Each cleaning set comes complete with gun cleaning tips and basic instruction on how to use each item.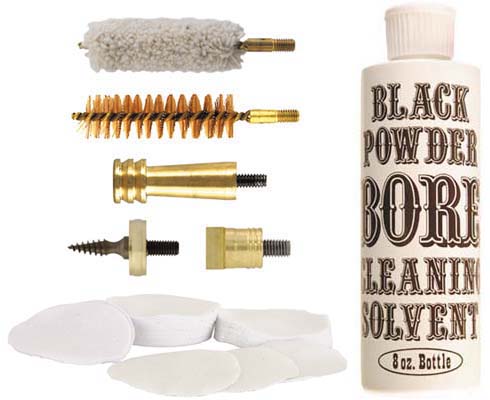 Track of the Wolf, Inc.
18308 Joplin St NW
Elk River, MN 55330-1773
Copyright © 2023Track of the Wolf, Inc.