Simplified V Springs,
easy home tempering instructions,
by Kit Ravenshear
The late Kit Ravenshear created these gunsmithing manuals to share his workshop knowledge and experience acquired during his 50 years of practice. These 7-1/2 x 8-1/2" soft cover booklets of about 20 pages are aimed at the innovative craftsman. Mr. Ravenshear shows that you don't need highly technical equipment. His techniques are amazingly unsophisticated, but very effective to learn and use.

This booklet explains the secrets of making V-springs the easy way. Buying the right steel, with wide temper tolerance, will allow you to make a good springs despite home tempering.

Learn to shape mainsprings, frizzen springs and sear springs. Mr. Ravenshear proves that broken V-springs can be altered, repaired, welded and salvaged.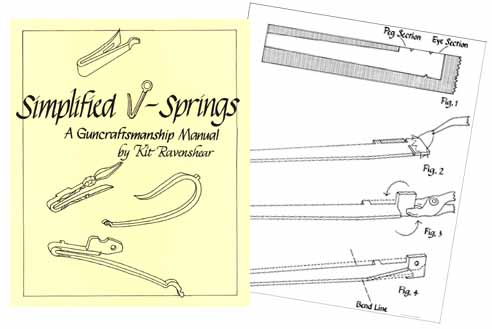 Track of the Wolf, Inc.
18308 Joplin St NW
Elk River, MN 55330-1773
Copyright © 2023Track of the Wolf, Inc.