Sundials: Their Theory and Construction
by Albert E. Waugh
Have you ever wanted to build or understand how a sundial works? All common types of dials are covered, but the reader can also learn about polar dials, equatorial dials, memorial dials, and many more. Directions are given for designing dials for any part of the country. The author has designed many dials, his text is filled with hints based on his experience. Soft bound, 230 pages, 106 illustrations.

The Table of Contents includes the following:
Chapter 1 Historical Sketch
Chapter 2 Kinds of Time
Chapter 3 The Noon Mark
Chapter 4 The Equatorial Sundial
Chapter 5 The Horizontal Sundial
Chapter 6 Vertical Direct South Dials
Chapter 7 The Vertical Direct North Dial
Chapter 8 Vertical Direct East and West Dials
Chapter 9 The Polar Dial
Chapter 10 Vertical Declining Dials
Chapter 11 Direct Reclining or Inclining Dials
Chapter 12 Dials Which Both Decline and Recline
Chapter 13 The Analemmatic Dial
Chapter 14 Reflected Ceiling Dials
Chapter 15 Dial Furniture
Chapter 16 Portable Dials
Chapter 17 The Armillary Sphere
Chapter 18 Memorial Dials
Chapter 19 Practical Hints on Dialling
Appendix
Bibliography
Index


ISBN: 0-486-22947-5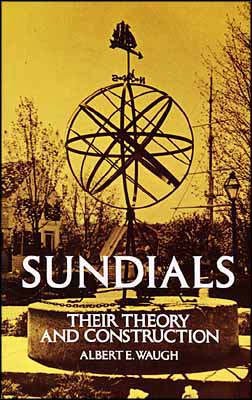 Track of the Wolf, Inc.
18308 Joplin St NW
Elk River, MN 55330-1773
Copyright © 2023Track of the Wolf, Inc.