SPG Black Powder Cartridge Reloading Primer,
revised 9th edition, 20 plus new pages
by Mike Venturino & Steve Garbe
This superb loading manual specializes in black powder cartridge data for popular and rare calibers, from 32-40 to 50-140, including Sharps, Remington and Ballard cases. Wire bound, 6 x 9" format, with 150 pages. Drop tables for cast bullets will put you on target at long range. Steven P. Garbe invented SPG lube. He uses these loads to win the National Silhouette championship, three times, so far.

The Table of Contents includes the following:
Introduction by Mike Venturino
Chapter 1 Basic Black Powder Cartridge Reloading

Bullets
Bullet Alloys
Bullet Sizing
Custom Bullet Molds
Author's Favorite Bullet Designs
Primers
Powder
Wads
The Cartridge Case
Drop Tubes
Bullet Seating
Cartridge Case Cleanup
Summary

Reloading the Match Cartridge by Steve Garbe
Black Powder in the .32-40 and .38-55 by Steve Garbe
Sorting Out that New Rifle Steve Garbe
Match Strategy Steve Garbe
Chapter 2 Black Powder Calibers

Picking the Black Powder Cartridge

Chapter 3 Individual Cartridge Data Selection

.32-40
.38-55
.38-56
.40-50 Straight
.40-50 Bottleneck
.40-60 Maynard
.40-65 Winchester
.40-70 Government
.40-70 Sharps Bottleneck
.40-70 Sharps Straight
.40-90 Sharps Bottleneck
.40-90 Sharps Straight
.44-77
.44-90
.45-70 Government
.45-90(2.4 Inch)
.45-100 (2.6 Inch)
.45-110 (2-7/8 Inch Case)
.45-120 Sharps
.50-70 Government
.50-90 Sharps
.50-140 Sharps

Chapter 4 Authors' Comments on Ballistics Chart

Ballistics Charts
.32 Caliber
.38 Caliber
.40 Caliber
.44 Caliber
.45 Caliber
.50 Caliber

Equipment Listing
General Reloading Equipment & Accessories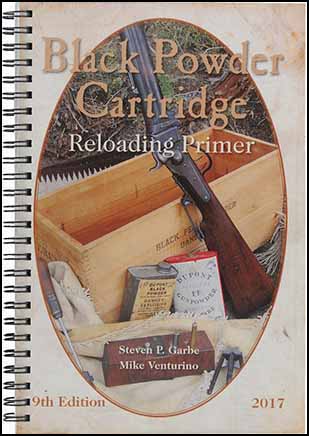 Track of the Wolf, Inc.
18308 Joplin St NW
Elk River, MN 55330-1773
Copyright © 2023Track of the Wolf, Inc.