Red Coat and Brown Bess
by Anthony Darling
The muskets carried by the British army before and after our Revolution are described, identified and illustrated. The organization of the British army, a complete roster of regiments which served in America, and the battles they fought, provide valuable information. Soft cover, 64 pages, 61 illustrations, 6-3/4 x 10" format.

The Table of Contents includes the following:
Chapter 1 The British Army in 1774-1775

Army Organization
Augmenting the British Army
Enlistment and Life in the Regiment
Linear Tactics and the Musket in Combat

Chapter 2 The Long Land Pattern Musket
Chapter 3 The Short Land Pattern Musket
Chapter 4 The India Pattern Musket
Chapter 5 The British Regiments in the American Revolution
Chapter 6 Battles, Sieges and Skirmishes of The American Revolution


ISBN: 0-919316-12-3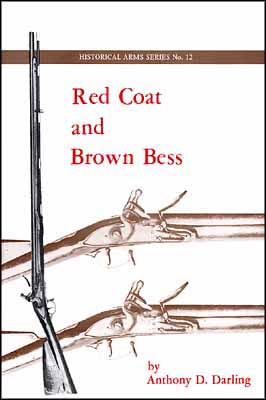 Track of the Wolf, Inc.
18308 Joplin St NW
Elk River, MN 55330-1773
Copyright © 2023Track of the Wolf, Inc.