A Quillwork Companion
by Jean Heinbuch
The author, an expert craftsman at her craft, describes and illustrates all of the basic and advanced designs used by the American Indian. The text is easy to understand and each step has been fully illustrated with diagrams, figures and photographs. Basic stitches are zigzag, simple band, single thread. Advanced stitches include are two quill zigzag, two quill triangle, double diamond, and many more. Soft cover, 92 pages, 8-1/2 x 11" format, with 70 illustrations.

The Table of Contents includes the following:
Embarkation
Chapter I

How To Use This Book
Quill Preparation
Tools

Chapter II

General Work Instructions and Basic Stitches

Chapter III Basic Quilling Techniques

Zigzag Technique
Simple Band Technique
Single Thread Line Technique
Quill Wrapping Technique
Quill Plaiting Technique

Chapter IV Advanced Quilling Techniques

Two Quill Zigzag Technique
Two Quill Triangle Technique
Two Quill Diamond Technique
Three Quill Double Diamond Technique
Multiple Quill Plaiting Technique
Checker Weave Technique
Single Thread Sawtooth Technique
Zigzag Edging Technique
Wrapped Fill Edging Technique
Coiled Wrapping Technique
Rosette Techniques
Quillwork on Birch Bark
Loom Quillwork
Repairing Damaged Quillwork

Appendix A The Preparation of Rawhide and Brain Tanned Leather
Appendix B Old Time Dye for Porcupine Quills
Bibliography


ISBN: 0-943604-25-7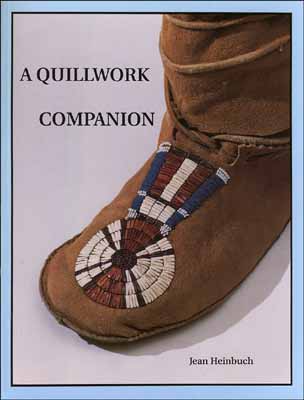 Track of the Wolf, Inc.
18308 Joplin St NW
Elk River, MN 55330-1773
Copyright © 2021Track of the Wolf, Inc.