Pirates and Patriots of the Revolution
by Keith C. Wilbur, MD
An illustrated source book of life aboard a Revolutionary privateer ship. Vividly depicts the vessels, clothing, gear, weaponry and victuals of the Yankee privateersmen. Soft bound, 8-1/2 x 11 format, 96 pages, line drawings throughout.

The Table of Contents includes the following:
Where To Find Relics Illustrated In This Book
Foreword
The Colonials Arm Their Vessels
Midget Privateersmen - Whaleboats And Other "Spider Catchers"
Hulls For Speed And Maneuver
How The Hulls Were Built
Forming And Installing The Great Spars
Ropes, Ratlines And Gear
How The Ships Were Rigged
Sails And Sail Riggings
Privateering - A Respected Business Enterprise
The Typical Crew Member
Putting Out To Sea
The Ship's Cannons
Life On The High Seas
Colors And Signals
Identifying The Enemy
Navigation
Chase Decisions
Battle At Sea
The Captured Privateersmen
Privateering Engagements Ashore And In Harbors
How The Ships Were Scraped And Refitted
Prize Disposals And Pay-Offs
Index


ISBN: 0-87106-866-4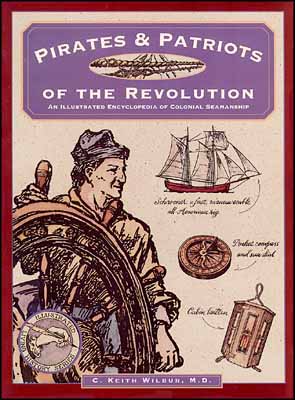 Track of the Wolf, Inc.
18308 Joplin St NW
Elk River, MN 55330-1773
Copyright © 2023Track of the Wolf, Inc.