Many Tender Ties
Women of the Fur-Trade Society
1670-1870
by Sylvia Van Kirk
Marriages of fur traders to Indian women created bonds that helped advance trade relations. As a result of these "many tender ties" there emerged a unique society derived from both Indian and European culture. The essential role of women is gleaned from vital bits of information from trader's journals, letters and wills. Soft bound, 303 pages, 6 x 9" with map and illustrations.

The Table of Contents includes the following:
Introduction
Chapter 1 Enter the White Man
Chapter 2 The Custom of the Country
Chapter 3 "Your Honors Servants"
Chapter 4 Women in Between
Chapter 5 "Daughters of the Country"
Chapter 6 My Only Consolation
Chapter 7 "Quite English in Her Manner"
Chapter 8 "Lovely Tender Exotics"
Chapter 9 A Question of Blood
Chapter 10 "A World We Have Lost"
Abbreviations
Select Bibliography
References
Index


ISBN: 0-8061-1847-4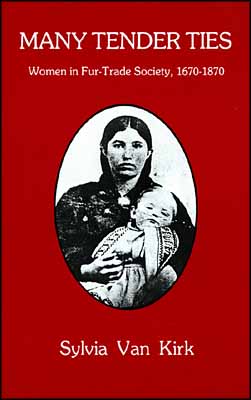 Track of the Wolf, Inc.
18308 Joplin St NW
Elk River, MN 55330-1773
Copyright © 2022Track of the Wolf, Inc.