Lyman Reloading Handbook
by Lyman Products
Lyman's 50th Anniversary Edition continues our heritage as being the proven source for reloading data. Lyman handbooks have always used the widest selection of cartridges, bullets and powder from all the major manufacturers. This 50th Edition continues our tradition of being the only data source using multiple brands throughout our data. 528 pages in 8-1/2 x 11" format.

The Table of Contents includes the following:
Acknowledgments
Handbook Staff
Editor's Foreword
Section 1: An Introduction To Reloading

Chapter 1 Why Reload?
Chapter 2 Getting Started Safely

Section 2: The Basics Of Reloading

Chapter 3 Reloading Rifle Cartridges
Chapter 4 Reloading Handgun Cartridges

Section 3: The Components of Reloading

Chapter 5 Cases and Their Preparation
Chapter 6 Primers
Chapter 7 Propellant Powders
Chapter 8 Jacketed Bullets
Chapter 9 Cast Bullets

Section 4: Specialty Articles

Chapter 10 The History of Modern Lyman Handbook
Chapter 11 Advanced Case Preperation Techniques
Chapter 12 What is a Ballistic Coefficient and How Do You Use It
Chapter 13 Barrels: Looking Into the Unknown

Section 5: Data Section

Rifle Data
Handgun Data
Thompson/Center - Contender and Encore

Section 6: Reference Section

Appendix A Bullet Type Abbreviations
Appendix B Useful Formulas for Reloaders
Appendix C Shell Holder Charts
Appendix D Relative Burn Rate Chart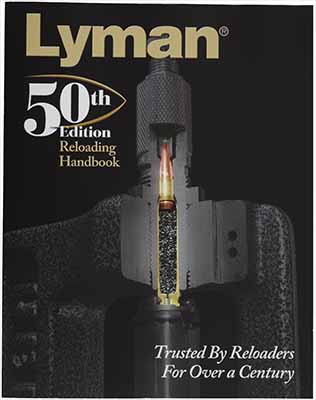 Track of the Wolf, Inc.
18308 Joplin St NW
Elk River, MN 55330-1773
Copyright © 2023Track of the Wolf, Inc.