Longrifles of North Carolina,
Second Edition,
by the late John Bivins, Jr.
This lovely hard cover book is back, in the Second Edition printing. Filled with lovely photos, drawings and facts compiled by the late John Bivins, Jr. whose gun making skills are legendary. The chapters cover the art and evolution of the rifle, immigration and trade movement, and characteristics of the North Carolina rifle and its gunsmithing schools.

Originally printed in 1968 The second edition is edited by Dr. George Shumway and includes forty new pages of photographs and details, new information from research on North Carolina's longrifle. Over 230 pages, large 9" x 12" format. Hardbound with dust jacket.

Table of Contents:


Preface
Acknowledgements
Chapter 1 : Some Remarks on Art & Evolution
Chapter 2: Immigration & Trade Movements
Chapter 3: Committee of Safety Gunsmiths
Chapter 4: Characteristics of the North Carolina Rifle
Chapter 5: Gunsmithing Schools in North Carolina
Chapter 6: A Further Look
Chapter 7: Longrifles of the North Carolina Peidmont
Chapter 8: Longrifles of Western North Carolina
Chapter 9: Illustrations of Gunsmiths Documents & Related Items
Chapter 10: Gunsmiths of North Carolina 1750 - 1865
Appendix A Confederate Manufactories
Appendix B: Blacksmiths Born Before 1811
Appendix C Additional Longrifles



Same day shipment, when you click ADD TO CART and complete shopping cart check out. Inspect the item, return it for same day refund if not delighted. You will be pleased with your choice. You pay postage, your only risk.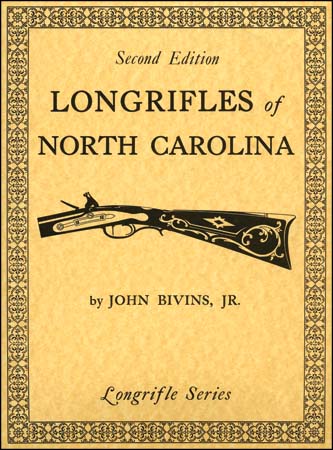 Track of the Wolf, Inc.
18308 Joplin St NW
Elk River, MN 55330-1773
Copyright © 2021Track of the Wolf, Inc.